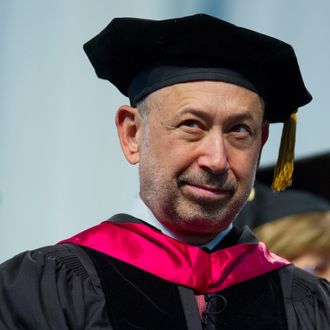 Photo: Jin Lee/Bloomberg/Getty Images
Vampire squid CEOs, it seems, are just like us.
"My experience, in many respects, is not that different from many of yours," Goldman Sachs chief executive Lloyd Blankfein told a group of predominantly female and Hispanic graduating college seniors this morning at the Javits Center. Giving the commencement speech for La Guardia Community College, the bestubbled titan of finance spoke of his roots in East New York, one of Brooklyn's roughest neighborhoods. "I grew up in the Linden Houses, which, as some of you know, is a housing project," Blankfein said, earning a few chuckles. He recalled how, until high school, he "shared a small apartment with my extended family, which included my grandmother, my sister, and my nephew."
In a tone reminiscent of some of his more plaintive statements in the wake of the financial crisis, he described college as "an intimidating place." Coincidentally, the global financial crisis explained his presence at the ceremony: In 2010, seeking cover from a PR blitzkrieg that included Matt Taibbi's timeless cephalopod analogy, Goldman launched an education and small business program that included a partnership with LaGuardia Community College — proof that Wall Street's most remorseless bully cared about the little guy.
Blankfein rolled into a series of run-of-the-mill commencement tropes about unlimited potential and overcoming obstacles and how hard work begets social advancement.  To illustrate, he offered an example from his adult life of how he had triumphed over adversity. Before going into finance, he had been an extremely well-paid but spiritually unsatisfied corporate lawyer. "I wasn't passionate about what I was doing, and because I didn't love it, I would never be fulfilled from it," he said.
But the story had a happy ending. "I got a job at a small Wall Street firm, we got bought out by a larger firm, and I ended up remaining at that large firm … Goldman Sachs," he said. And it wasn't just for "money and power" — although those things "can be pretty good." It was for … well, Blankfein never quite revealed what it was after money and power that was his true passion.
Around this point in the speech he lost at least one member of the crowd. A woman with a bleached-blonde bob sitting just in front of the press section picked up her iPhone and began browsing through a gallery of memes. Briefly and aptly, she flashed by a few of the First World Problems variety.  
When Blankfein finished his speech, LaGuardia's valedictorian took to the mike. Freda Raitelu didn't mention that she waited ten years to enroll at LaGuardia until she could get a kidney transplant, or that she wore a surgical mask to class to prevent illness, or the many financial troubles she faced. (That information was in her bio, handed out in the media package.) Rather, she just looked overcome with happiness at her accomplishment and urged her fellow graduates to "continue to explore your purpose, rise to the challenges you meet, and make the world a better place."