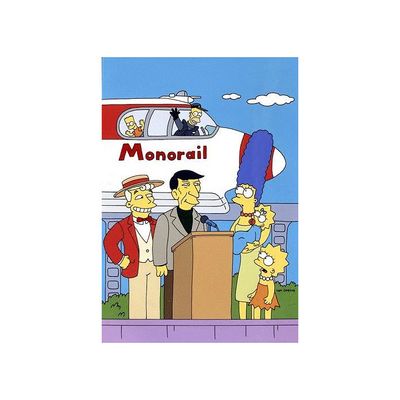 "There's nothing on Earth like a genuine, bona fide, electrified, six-car monorail!"
Photo: Wiki
Most of the city's 2013 mayoral candidates came together to broach public-transportation issues in back-to-back forums at Baruch College in Manhattan on Wednesday. Anthony Weiner was there, looking very determined to come across as thoughtful and focused rather than bored (as the press corps has branded him at previous debates). But it was John Catsimatidis, the grocery-store baron and long-shot Republican hopeful, who made the biggest splash of the morning when he called for building a monorail alongside the Long Island Expressway.
"Not subway, ABOVE-way," he said, dismissing the possibility of expanding the existing underground rail system as a pipe dream. He expressed a wish to see "monorails going down the middle of the streets," in keeping with his role as the fearless ideas man in the field. Former Bronx borough president Adolfo Carrion, the independent candidate seated to his right, expressed support for alternatives to growing the subway system, though he did not explicitly get on the monorail bandwagon.
The Democrats didn't offer any similarly novel infrastructure proposals, but Weiner did continue to ratchet down his rhetorical war on bike lanes. In 2011, not long before the Twitter scandal that ended his congressional career, he told Mayor Bloomberg: "When I become mayor, you know what I'm going to spend my first year doing? I'm going to have a bunch of ribbon-cuttings tearing out your fucking bike lanes." On Wednesday, however, he was careful to describe himself as a "pro-bike Democrat" and bragged that he had used the Citi Bike program more than any of the other candidates. He also bristled at the mention of polling showing the program was broadly popular among the city's residents, suggesting it had only become controversial because Bloomberg botched the rollout.
"I actually have some polling here that says the proposal to give rocket packs to every citizen to fly to work has 90 percent support," he offered.
Council Speaker Christine Quinn did not attend the event.