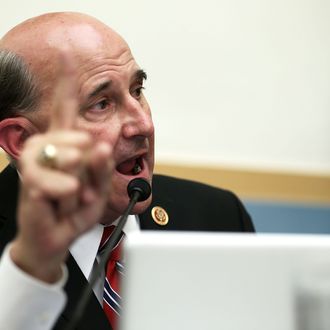 Gohmert also said sex ed reminds him of the Soviet Union, so there's that, too. We didn't even get into that part.
Photo: Alex Wong/Getty Images
On a radio show yesterday, Texas congressman Louie Gohmert said, "Let the kids be innocent … You don't have to force this sexuality stuff into their life at such a point. It was never intended to be that way. They'll find out soon enough.  And, in fact … mankind has existed for a pretty long time without anyone ever having to give a sex-ed lesson to anybody." Here are some other things that mankind existed without for a pretty long time and which Gohmert presumably also finds unnecessary. 
Sanitation
Antibiotics
Racial equality
Cars
The Internet
Airplanes
Democracy
Phones
Hospitals
Gender equality
Toilet paper
Submarines
The Constitution
Vitamins
Plastic
Air conditioning
Christianity
Texas