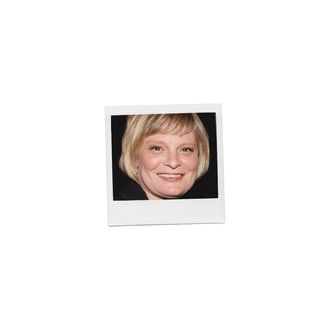 Photo: Janette Pellegrini/Getty Images
Name: Martha Plimpton
Age: 42
Neighborhood: Upper West Side
Occupation: Actress, activist. You can catch her tomorrow at Babeland, where she and Lizz Winstead host a benefit for A is For, the organization they helped co-found.
Who's your favorite New Yorker, living or dead, real or fictional?
My nana, Beatrice Spier. She was a lifelong New Yorker — born in the Bronx, raised her two daughters on the Upper West Side — a smartass and erudite. I don't think she let her New Yorker subscription lapse for even one week ever in 50 years.
What's the best meal you've eaten in New York?
That's impossible to answer; there's so many. Um, I don't wanna say because it's gonna get overwhelmed, but it's in my neighborhood.
In one sentence, what do you actually do all day in your job?
I put dead people's hair on my head and talk loudly in front of strangers for money, and I also answer about 200 e-mails a day having to do with my advocacy work with reproductive rights.
What was your first job in New York?
In a musical version of the Haggadah when I was 8 years old. I played a Jew fleeing Egypt. And I've been an honorary Jew ever since.
What's the last thing you saw on Broadway?
My dad, in Hands on a Hardbody. It was great, and he was fabulous.
Do you give money to panhandlers?
Only if they have a pet. I'm a sucker for a person using a pet as bait.
What's your drink?
In the summertime I become a connoisseur of rosé wine.
How often do you prepare your own meals?
You know, I used to do it all the time, but then now I have such a hot and tiny kitchen that I can't bear to go in there. My kitchen is the size of a walk-in closet, basically, so I feel like I'm as good at cooking as I'm ever going to get in there.
What's your favorite medication?
Right now, beta-blockers.
What's hanging above your sofa?
A huge, hand-tinted engraving of The Monarch of the Glen, by Edwin Landseer.
How much is too much to spend on a haircut?
As much as you're willing to spend, I guess. I've worked out a professional-courtesy situation so that I don't have to pay exorbitantly.
When's bedtime?
Too late.
Which do you prefer, the old Times Square or the new Times Square?
Old Times Square, without a doubt. I can't stand the new one, and it's especially bad when you're working on Broadway and have to walk through it. It's awful. It's like a giant Orange Julius.
What do you think of Donald Trump?
I don't want to think of him. I think he's really, really happy that you guys are still asking people what they think of him.
What do you hate most about living in New York?
Being asked about Donald Trump. No, what I hate most about it is that rents go up so high that businesses can't stay open unless they belong to big megacorporations. That's why my butcher closed. I liked New York better when we had butchers. I was happier.
Who is your mortal enemy?
The landlord who raised the rent on my butcher.
When's the last time you drove a car?
I guess a couple of weeks ago. I got a Zipcar and drove to Brooklyn.
How has the Wall Street crash affected you?
I've been very fortunate that right around the time the economy tanked, I was lucky enough to get a job on television, so I'm doing okay, but I can't help but notice that there's a lot of corporations that use the crash as an excuse not to pay their workers. They're doing all right, too.
Times, Post, or Daily News?
Times.
Where do you go to be alone?
Los Angeles.
What makes someone a New Yorker?
The ability to look up when everyone else is looking down.