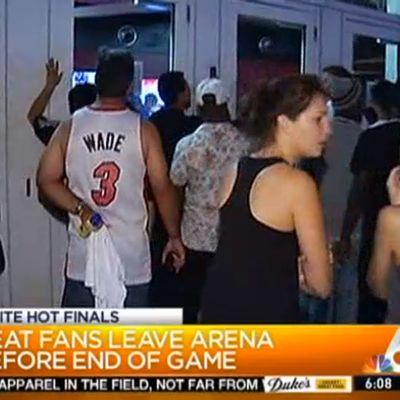 Heat fans try to get back inside the arena after leaving early.
The fans of the Miami Heat, despite being blessed with one of the NBA's top teams and the world's best player, have a reputation for being awful. They arrive after the games begin, and they leave before they end. They do this even during close, exciting playoff games. During Game 2 of the Eastern Conference Finals three weeks ago, an Indiana Pacers radio broadcaster summed up pretty much everyone's opinion of Heat fans:
"These losers are leaving," he said, disgusted. "They are flocking to the exits with their team down by three. This city does not only not deserve this team, they don't deserve any team."
Last night, Heat fans did it again. 
With the Heat trailing by five points in the final half-minute of Game 6 of the NBA Finals, hundreds of fans streamed for the exits. In an effort to shave a few minutes off their commute home, they missed an incredible Heat comeback victory and the climax of what LeBron James later called "by far the best game I've ever been a part of."
On Twitter, local reporter Victor Oquenda chronicled the scene outside the arena, as Heat "fans" desperately tried to reenter after learning that the game had gone into overtime:
CBS Sports' Royce Young adds, "The scene was described to me by one arena worker as 'crazy' and that hundreds of fans were pounding on the glass doors begging to be let back in. Police actually came over to stablize [sic] the situation as some were getting quite upset, apparently."
The local NBC affiliate has interviews with fans bemoaning the heartbreaking Heat loss that never actually transpired:
Ideally, all of the fans who left the game early last night would be publicly humiliated like those poor bastards on the local news were. But since that isn't possible, we will just have to heap shame on the entire fan base, and, indeed, the entire city of Miami.