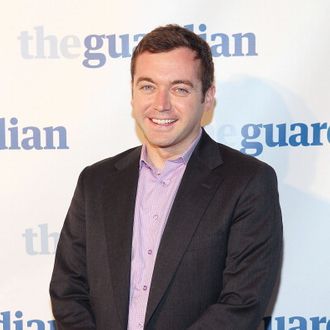 Photo: Paul Morigi/Getty Images for The Guardian
The death of reporter Michael Hastings, best remembered for taking on General Stanley McChrystal and other powerful people, has been met with shock and grief in the journalistic community, especially from those fortunate enough to work alongside him. But one layer below the fond remembrances are a host of vague questions and inferences about the circumstances surrounding the 33-year-old BuzzFeed reporter's fiery solo car crash early Tuesday in Los Angeles. Bringing those suspicions to the forefront last night was WikiLeaks, never reticent to insert itself into a story, which teased, "Michael Hastings death has a very serious non-public complication. We will have more details later." And after three hours tweeted: "Michael Hastings contacted WikiLeaks lawyer Jennifer Robinson just a few hours before he died, saying that the FBI was investigating him."
"Yeah," BuzzFeed editor Ben Smith confirmed to Daily Intelligencer. "Before his death, Michael told a number of his friends and colleagues that he was concerned that he was under investigation."
But other, less reputable sources have taken the speculation much further. "Vince Foster-like murder plot emerging in Los Angeles? Did the Obama administration knock off a star reporter?" asked one blog early on Wednesday, adding to existing conspiratorial Twitter chatter. Another wrote, "Admit it, Michael Hastings' Death is Weird and Scary." Hours before revelations about a potential FBI investigation, InfoWars, the Alex Jones website that serves as a catch-all conspiracy-theory clearing house, mentioned Hastings's death with an editor's note: "Journalists who mess with government and military power often die under mysterious circumstances." None had more than conjecture.
The circumstances are these: "Police said a vehicle was southbound on Highland about 4:20 a.m. when it lost control south of Melrose and smashed into a tree," the L.A. Times reported. Video purports to show Hastings's Mercedes-Benz running a red light at a high speed minutes before the crash. "It sounded like a bomb went off in the middle of the night," a witness told the local news. "I couldn't have written a scene like this for a movie, where the engine flies from the car." Photos and video from the aftermath show extreme wreckage, and as of yesterday, the coroner had not officially identified the body because it was too badly burned.
But an automotive writer also fed the doubters:
I'm here to state that I've seen dozens of cars hit walls and stuff at high speeds and the number of them that I have observed to eject their powertrains and immediately catch massive fire is, um, ah, zero. Modern cars are very good at not catching fire in accidents. The Mercedes-Benz C-Class, which is an evolutionary design from a company known for sweating the safety details over and above the Euro NCAP requirements, should be leading the pack in the not-catching-on-fire category. Nor is the C-Class known for sudden veering out of control into trees and whatnot.
The crash is under investigation and there will be an official accident report (a toxicology report could take weeks). Whatever its findings, they can likely coexist with Hastings's mind-set at the time and a potential government investigation without representing something more sinister.
"He was incredibly tense and very worried and was concerned that the government was looking in on his material," said Hastings's friend and Current TV host Cenk Uygur. "I don't know what his state of mind was at 4:30 in the morning, but I do know what his state of mind was in general, and it was a nervous wreck." But Mother Jones editor Clara Jeffery put it plainly: "Ugh, the people posting Vince Foster style comments re Hastings death do a disservice to his no BS truth telling." Let's wait for the facts.
Update: The L.A. Times reports that Hastings, prior to his death, "was researching a story about a privacy lawsuit brought by the Florida socialite Jill Kelley against the Department of Defense and the FBI." The paper also notes, "Since Hastings's death early Tuesday, wild conspiracy theories have bloomed on the Internet implying that he was murdered by powerful forces wanting to silence him."
Update II: The LAPD tells the Times "there appears to be no foul play in the one-vehicle accident that killed journalist Michael Hastings … Officials are trying to determine whether there was a mechanical problem with the car." His body has been positively identified by the L.A. coroner.
Update III: The FBI released a statement saying, "At no time was journalist Michael Hastings ever under investigation by the FBI."