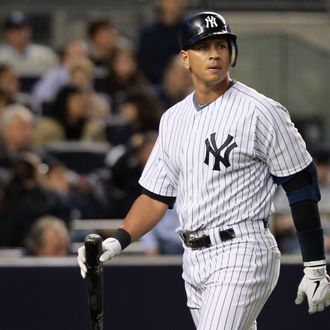 Photo: Nick Laham/Getty Images
Reports that the Miami clinic Biogenesis supplied dozens of baseball players with human growth hormone first surfaced in January, but if you haven't already braced yourself for what might be the biggest performance-enhancing drug scandal ever in American sports, now is the time to do so. ESPN's Outside the Lines reports that in the next few weeks the MLB will seek to suspend about twenty players connected to the clinic, including the Yankees' own Alex Rodriguez.
In a major break in the investigation, Tony Bosch, founder of the shuttered clinic, reportedly agreed this week to cooperate with the MLB. Investigators have records from the clinic, but needed Bosch to confirm their accuracy and reveal the identities of players who used code names. Sources say that in exchange for Bosch's cooperation, the MLB has agreed to drop the lawsuit it filed against him in March, provide him with personal security, and put in a good word with law enforcement should charges be filed against him.
While the list is likely to grow once Bosch starts talking, Ryan Braun, Melky Cabrera, Nelson Cruz, and Yasmani Grandal are also among the players who may be disciplined. One source says the MLB might seek 100-game suspensions for several of the players, including A-Rod. While that's usually the penalty for a second drug offense, the actual doping would count as the first offense, and lying to the MLB would be the second.
The suspensions could be announced in the next two weeks, and players are expected to fight the charges, leading to a lengthy appeals process. In the meantime, this might shed some light on why Yankees owner Hal Steinbrenner admitted on Monday that the team has been "disappointed" with A-Rod.