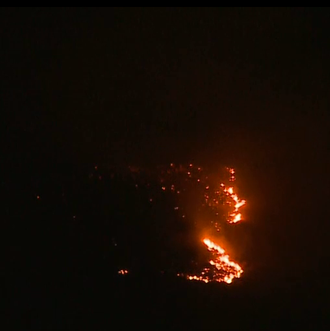 A wildfire threatening the town of Yarnell, Arizona, turned into one of the deadliest disasters in the history of U.S. wildfires when nineteen firefighters were killed while fighting it on Sunday. The blaze, which has yet to be contained, has spread to more than 2,000 acres and is expected to destroy at least half of the 500 homes in the town about 35 miles southwest of Prescott, the Arizona Republic reports. Eighteen of the dead are from a single firefighting crew in Prescott, the Granite Mountain Hotshots, the Prescott Daily Courier reports. The identity of the 19th is still unknown, tweets Republic reporter Michelle Lee. Exactly how the 19 firefighters found themselves caught in the blaze isn't yet clear. Federal authorities are providing reinforcements, bringing the manpower at the scene to 400. We'll have more information as it becomes available.
Update, 12:35 a.m.:  "The entire hot shot crew had been killed by the fire," Prescott Fire Chief Dan Fraijo told the Associated Press. He explained that the firefighters had to deploy their emergency shelters, essentially pup tents made out of reflective material, when "something drastic happened." "Under certain conditions there's usually only sometimes a 50 percent chance that they survive," he added. "It's an extreme measure that's taken under the absolute worst conditions."
The local NBC affiliate KPNX is reporting the fire might have been started by a lightning strike on Friday that the wind whipped up into a blaze.
Update, 12:55 a.m.: Fraijo said at a news conference that the nineteen firefighters who died were from the Prescott Fire Department, which deployed a team of twenty so-called hot shots, highly trained firefighters who hike to the scene carrying firefighting equipment on their backs. The one who survived was in a different location from the rest of the crew, Fraijo said. He did not give any information on the specifics of the incident that killed the nineteen firefighters.
Photos from earlier start to convey the scope of the blaze: