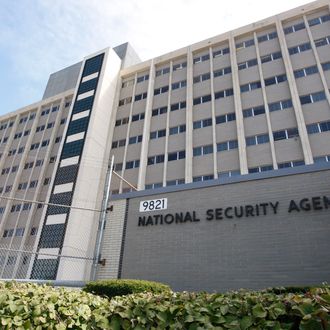 While the majority of Americans aren't terribly concerned about the NSA surveillance scandal, a few groups dedicated to preserving civil liberties — or avoiding questions about their own questionable privacy record — are taking a stand against the agency's spy programs. On Tuesday, the American Civil Liberties Union filed the first substantive lawsuit sparked by last week's revelations, arguing that the government's phone record dragnet violates the First and Fourth Amendments of the Constitution. The New York Times notes that in the past, the government has managed to get similar suits dismissed by arguing that litigation would reveal state secrets and the plaintiffs weren't personally affected. Luckily for the ACLU, the phone program was just declassified, and they happen to be a Verizon customers.
The lawsuit, which was filed in federal court in New York, asks the court to make the government admit that the surveillance is unconstitutional, shut down the program, and purge any records it's collected. "The practice is akin to snatching every American's address book - with annotations detailing whom we spoke to, when we talked, for how long, and from where," says the complaint. "It gives the government a comprehensive record of our associations and public movements, revealing a wealth of detail about our familial, political, professional, religious, and intimate associations."
As for the government's other newly unveiled spy program, on Tuesday the companies providing online data to PRISM tried to further distance themselves from the controversy by asking to disclose more information about their relationships with the security agencies. In an open letter to Justice Department officials, Google requested permission to publish the number of government data requests it receives, saying the figures will show it doesn't give the NSA "unfettered access to users' data. "Google has nothing to hide," said the letter. Soon after Microsoft, Facebook, and Yahoo issued similar statements urging the government to allow greater transparency. All of the companies previously denied that they were partners in PRISM, or even knew anything about it.
While the Obama administration tried to calm Americans in the last week by saying PRISM is only used to spy on foreigners' online activities, that defense didn't sit very well with Europeans. This week, Viviane Reding, the European Union's commissioner of justice, sent a letter to Attorney General Eric Holder demanding to know what the U.S. is doing with Europeans' personal information, and hinting that his response could affect upcoming U.S.-European trade talks. President Obama will also have hard time dodging foreign leaders' questions on surveillance, as he's headed to Northern Ireland next week for the G8 summit, and then to Berlin. "You can be sure that this will be one of the things the chancellor addresses when President Obama is in Germany," said Steffen Seibert, spokesman for Angela Merkel.