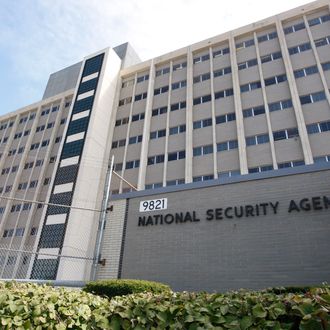 On Wednesday we learned the NSA is still collecting phone call information from Verizon customers, and now the Wall Street Journal reports that the agency is also indiscriminately culling data from AT&T and Spring Nextel Corp. subscribers. The story lost some of its edge coming just hours after the revelation that our tweets may be the only online activity safe from the government's prying eyes, but it backs up the assumption that the collection of phone data in bulk wasn't confined to one provider for just three months. And there's a another troubling tidbit:  People familiar with NSA operations tell the Journal that the program also includes "purchase information from credit-card providers."
The information on what credit card information is being collected is pretty skimpy. The paper reports:
NSA also obtains access to data from Internet service providers on Internet use such as email or website visits, several former officials said. NSA has established similar relationships with credit-card companies, three former officials said.
It's unclear what the scope of the credit-card data collection was, or if it's still ongoing, but considering the quick pace of government surveillance leaks in the past day, we should know soon enough. (The New York Times notes, "The extraordinary revelations, in rapid succession, also suggested that someone with access to high-level intelligence secrets had decided to unveil them in the midst of furor over leak investigations.")
In the meantime, we can take comfort in the words of Harry Reid from earlier today:  "Everyone should just calm down and understand this isn't anything that is brand new." So what if the government is collecting data on every aspect of our lives? They've been doing it for years.