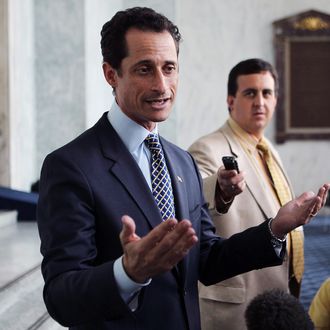 Photo: Alex Wong/2011 Getty Images
Some accused the New York Times of sexism after it published a story on Christine Quinn that focused on her combativeness and willingess to "open up the bitch tap," but on Thursday the paper rebutted the claim with a profile of mayoral rival Anthony Weiner that's far more scathing. Weiner became one of the more well-known House members during his twelve years in Congress, thanks to his frequent animated tirades on a variety of issues. But the Times reports that "offstage, those who worked alongside him say, Mr. Weiner was a lawmaker with little patience for making laws and a single-minded focus on generating attention so he could run for mayor of New York." And that doesn't even cover the abuse he hurled (sometimes literally) at those around him. 
The examination of Weiner's congressional record paints him as a legislator who liked calling press conferences and introducing bills, but rarely followed through. The only bill he wrote and sponsored that became a law involved reducing cigarette sales-tax evasion, which happened to benefit a major donor and family friend who worked as a cigarette distributor. Those who worked with him point to his famous explosion at Rep. Peter King over aid to 9/11 workers and his threat to hold up President Obama's health care plan as examples of his willingness to torpedo hard-fought compromises so that he could get his sound bite.
"It was like he had a megaphone surgically attached to his mouth," former Representative Zachary Space, Democrat of Ohio, tells the Times. "His unwillingness to be a team player did compromise his ability to be an effective congressman. I don't care if you're a congressman, or president, or mayor or a city councilman — you can't do it yourself."
The real standout moments from the article are accounts of Weiner's diva-like behavior (having aides call air-traffic control and attempt to have his plane moved up in the departure order, demanding that his driver make every yellow light) and incidents that cross into assholery. Weiner sought advice from Brooklyn district leader and political operative Bernie Catcher, and the two became close enough that Weiner came to Catcher's hospital room when he was recovering from heart surgery to discuss his campaign. Then when Catcher's boss died, leaving him unemployed, Weiner refused to return his calls. (In his defense, Weiner suggests Catcher wasn't talented enough to work for him.) There are also these gems:
In 2005, he became so irritated with a staff member that he threw a salad against the wall, then left the room as the dressing slowly dripped, leaving a stain. Another time, arguing with an aide, Mr. Weiner threw his BlackBerry against a wall, then blamed the aide for the broken phone.

"It was like 'The Devil Wears Prada,'" recalled Stacey E. Fitzpatrick, a lawyer in Seattle who worked for Mr. Weiner on the City Council.
Incredibly, this is not the damning sexting follow-up that the Times accidentally published earlier this week. Weiner's scandal is only mentioned fleetingly, and instead the article serves as a primer on reasons to think twice about voting for Weiner, even if you can get past his gross tweets.