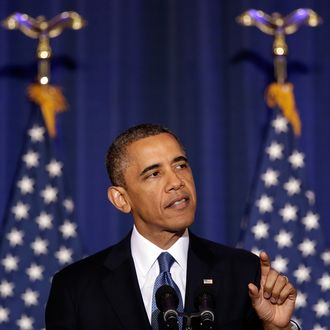 Photo: Win McNamee/Getty Images
Barack Obama's promises about a transparent administration have not exactly been upheld, what with the war on leakers, and today the Associated Press has yet another example of the government making life tough for journalists. While Freedom of Information laws require that federal records be available to anyone upon request, Obama appointees like Health and Human Services Secretary Kathleen Sebelius are using secret e-mail addresses to conduct government business, thus obscuring their dealings. Even if there's nothing untoward there, it just feels like they're cheating on freedom.
"The secret email accounts complicate an agency's legal responsibilities to find and turn over emails in response to congressional or internal investigations, civil lawsuits or public records requests because employees assigned to compile such responses would necessarily need to know about the accounts to search them," the AP explains. "Secret accounts also drive perceptions that government officials are trying to hide actions or decisions."
To prove its dedication to press freedom, the AP is publishing the addresses it's found, even though the Obama administration would rather it didn't:
The AP decided to publish the secret address for Sebelius — KGS2(at)hhs.gov — over the government's objections because the secretary is a high-ranking civil servant who oversees not only major agencies like the Centers for Medicare and Medicaid Services but also the implementation of Obama's signature health care law. Her public email address is Kathleen.Sebelius(at)hhs.gov.
So feel free to tell her how you feel about the practice.