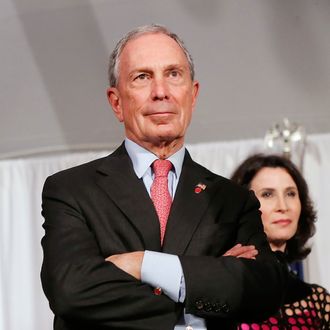 Not happy.
Photo: Jemal Countess/Getty Images
According to the Center for American Progress, "The United States is the only developed country that doesn't guarantee paid sick leave." But a little over 6 million Americans do live in areas with local paid sick leave laws. Today that number jumped to over 14 million.
New York City joined San Francisco, Seattle, Portland, D.C., and Connecticut this morning in mandating paid sick days when the city council overrode Mayor Bloomberg's veto this morning. The requirements will be phased in gradually and vary depending on a company's size:
Under the new law steered by Councilwoman Gale Brewer, employees of businesses with 20 or more workers would get up to five paid sick days a year beginning in April 2014; the benefit would kick in by October 2015 at enterprises with 15 to 19 workers. All others would have to provide five unpaid sick days per year, meaning that workers couldn't get fired for using those days.
The law does come with certain qualifiers. It "allows for the regulation to be postponed if the city's economy worsens, as measured by an index published by the Federal Reserve," the Times reported in May. Also, the entire manufacturing industry is exempt — "the rationale is that they're struggling, Council Speaker Christine Quinn has said," according to the AP. 
Still, the new law will cover approximately one million New York City workers. Mayor Bloomberg may not like it, but he also doesn't know what it's like to be sick.