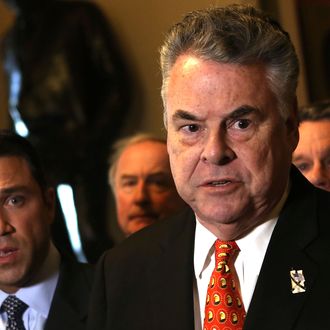 Photo: Alex Wong/2013 Getty Images
In Congressman Peter King's country, reporters would be held responsible for doing their jobs because there would be no Constitution. "If they willingly knew that this was classified information, I think action should be taken, especially on something of this magnitude," the oft-raving Representative King told Anderson Cooper last night, when asked if the reporters of the NSA leaks should be punished. "I think on something of this magnitude, there is an obligation, both moral but also legal, I believe, against a reporter disclosing something which would so severely compromise national security. As a practical matter, I guess it happened in the past several years, a number of reporters who have been prosecuted under it, so the answer is yes to your question." Not quite.
What King described is, of course, not a crime (as of now), nor have any reporters been prosecuted for such an offense. Following the investigation into Fox News reporter James Rosen's source — and the government's characterizing of Rosen as a "co-conspirator" — Attorney General Eric Holder vowed "to identify and prosecute government officials who jeopardize national security by violating their oaths, not to target members of the press or discourage them from carrying out their vital work." Holder told the Senate, "The department has not prosecuted, and for as long as I'm attorney general of the United States, will not prosecute any reporter for doing his or her job." But if anyone can ramble inaccurately and almost incoherently about changing that, to no end, it's Peter King.
Update: In case there was any doubt, "I'm talking about Greenwald," King clarified today. "Greenwald, not only did he disclose this information, he has said he has names of CIA agents and assets around the world and threatening to disclose that … But in this case, when you have someone who's disclosed secrets like this and threatens to release more, then to me, yes, there has to be, legal action should be taken against him. This is a very unusual case with life and death implications for Americans."
Greenwald is not amused: