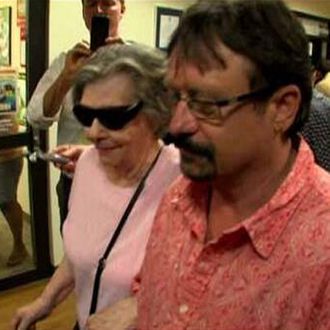 Luckiest woman ever, Gloria Mackenzie.
Photo: Fox 13 Tampa Bay
The winner of last month's record-setting $590 million Powerball drawing has been revealed: She is 84-year-old Gloria Mackenzie of Zephyrhills, Florida. Mackenzie won't take home $590 million, of course — she's taking the lump-sum payment of $370,896,780, and that's before taxes. Mackenzie didn't show up at the ceremony today announcing her identity, but she did release a short statement, one that contains an absolute bombshell:
"We bought the winning ticket as a single ticket even though we bought four other tickets before the drawing. While in line at Publix another lottery player was kind enough to let me go ahead of them in line to purchase the winning Quick Pick ticket. We are grateful for this blessing of winning the Florida Lottery Powerball jackpot, and appreciate the interest of the public, the state of Florida, and the lottery. We hope that everyone will give us an opportunity to maintain our privacy for our family's benefit."
We can't say this enough, people: Do not be kind to others. 
Update, 6:35 p.m.: Asked whether Mackenzie knows the identity of the person she cut in line, and whether she intends to reward that person, William P. Brant, and attorney with Brant, Abraham, Reiter, McCormick & Johnson, which is representing Mackenzie, declined to comment. "Our clients have asked us to maintain their privacy," Brant told us in an email, "therefore we will be making no statement to the media other than the written statement provided to the Lottery, and neither my clients, nor any member of this firm, will be granting interviews. Thank you."