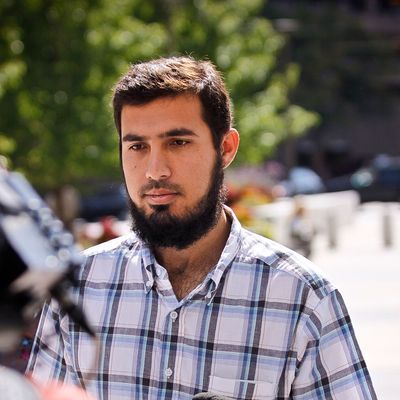 Hates PRISM.
Photo: Marc Piscotty/Getty Images
"I think it's important to recognize that you can't have a hundred percent security and also then have a hundred percent privacy and zero inconvenience," President Obama said earlier today. "You know, we're going to have to make some choices as a society."
The problem is that it's not easy to weigh those choices when the relevant information is secret: We know that our privacy is being violated to some degree, but we have no idea whether these violations are worth it because we're not aware of the NSA's successes. Consequently, the debate over the NSA's spy programs has been fairly one-sided. 
But amid all the uproar yesterday and today, a report from CBS's John Miller — formerly of the FBI and a fairly plugged-in guy — went largely unnoticed. It contains the first specific details about a terror plot that PRISM (the program that spies on the online communications of foreigners) helped to prevent. The name Najibullah Zazi may ring a bell — he's the guy who wanted to blow up the subway in 2009.
"If you look at the Najibullah Zazi case, you have a classic example there. So on September 6, 2009, around dawn, an e-mail comes from an IP address to another IP address. One of them is nothing we're paying attention to. The other is one that has been flagged as an al Qaeda mail drop that is rarely used."

"And so when that bell rings, they say, 'Hey, they hardly ever use this account, but it's associated with Rashid Rauf, who is al Qaeda's master bomb maker, behind the plot to blow up all the airplanes, 'Who's he talking to?' And when they find out the other IP address on the other end resolves to Aurora, Colo., outside Denver, it connects them to Zazi, it takes them to the plot to blow up the New York subways, it's all prevented. That's how a program like this is supposed to work."
Reuters sources — possibly the same sources as Miller's, who knows — also confirmed today that PRISM tipped off authorities to Zazi: 
A secret U.S. intelligence program to collect emails that is at the heart of an uproar over government surveillance helped foil an Islamist militant plot to bomb the New York City subway system in 2009, U.S. government sources said on Friday.

The sources said Representative Mike Rogers, chairman of the House of Representatives Intelligence Committee, was talking about a plot hatched by Najibullah Zazi, an Afghan-born U.S. resident, when he said on Thursday that such surveillance had helped thwart a significant terrorist plot in recent years.
For what it's worth, the Telegraph has previously reported that Scotland Yard intercepted the e-mail, however, the U.K. reportedly also has access to PRISM.* 
Zazi's plot against New York's subways was not merely aspirational, as the FBI has detailed. He had the explosives. He drove to New York. 
As set forth in the government's detention memorandum filed earlier in the case, in July and August 2009, Zazi purchased large quantities of components necessary to produce TATP and twice checked into a hotel room near Denver, where bomb making residue was later found.

On Sept. 8, 2009, Zazi rented a car and drove from Denver to New York, taking with him the explosives and other materials necessary to build the bombs. Zazi arrived in New York City on Thursday, Sept.10, 2009. Zazi and others intended to obtain and assemble the remaining components of the bombs over the weekend and conduct the attack on Manhattan subway lines on Sept. 14, Sept. 15, or Sept. 16, 2009. However, shortly after arriving in New York, Zazi realized that law enforcement was investigating his activities.
Zazi was stopped before he could carry out his attack and now faces life in prison. So … is PRISM worth it?
*This sentence has been updated with new information.