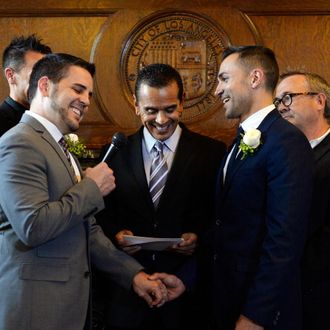 On Friday evening, the U.S. Ninth Circuit Court of Appeals issued an order to once again allowing same-sex marriages in California. The order came in response to the Supreme Court's Wednesday decisions to strike down the Defense of Marriage Act and to dismiss a challenge to the 2010 ruling that the state's gay marriage ban, Proposition 8, is unconstitutional. While the Ninth Circuit had been expected to wait 25 days for the Supremes to give a formal order on Prop 8, the San Francisco-based court instead decided that California could begin granting same-sex couples marriage licenses "immediately." A Ninth Circuit spokesman acknowledged that decision was "unusual, but not unprecedented." Also, it's Pride weekend.
The four plaintiffs who originally sued California over Prop 8 — Kris Perry and Sandra Stier and Paul Katami and Jeff Zarrillo — wed pretty much immediately — and dozens of others waited in long lines to do the same on Friday and throughout Saturday. "What extraordinary timing, right before [gay] pride weekend," observed Lieutenant Governor Gavin Newsom, who paved the way for this by issuing marriage licenses in 2004 when he was mayor of San Fransisco. Unsurprisingly, Prop 8's supporters were unhappy with the surprise announcement and subsequent happy unions and celebrations. "It is part and parcel of the utter lawlessness in which this whole case has been prosecuted," Chapman Law professor John Eastman told the LA Times. "Normally, courts let the parties kind of pursue their legal remedies before they issue a mandate."
In that spirit, lawyers representing the Prop 8 supporters of the Arizona-based Alliance Defending Freedom filed a Saturday afternoon emergency motion to stop the weddings. Attorney Austin Nimocks says that the Ninth Circuit "acted prematurely and unfairly" because his clients have 22 days to ask the Supreme Court to reconsider its decision, though they have not said what they intend to argue. After all, the grieving process can be difficult, though our sympathies are limited in this case.