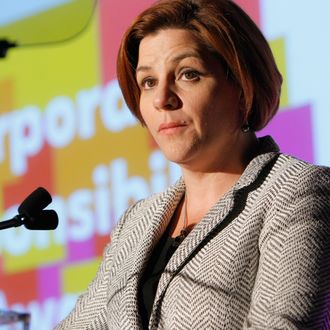 Photo: Jemal Countess/2011 Getty Images
In a major speech on Monday, Christine Quinn will attempt to differentiate herself from the many Democratic mayoral candidates, suggesting that they're all talk and no substance. An unfortunately timed Post report reveals that their talk has actually been rather similar of late, with Quinn sending out campaign literature that declares, "As mayor, I'll work hard every day to keep New York City a place for the middle class and for everyone who's struggling to make it there." Anthony Weiner has been using some variant of the slogan in his campaign since at least 2004, though he can't exactly accuse Quinn of stealing his invention.
Campaign placards from Weiner's last mayoral run said, "As mayor he'll fight for New York's hard-working middle-class and those struggling to make it," and just last week he told the Times, "I fight hard for the middle class and those struggling to make it."
Similar phrases were used by John Kerry during his presidential campaign and Mario Cuomo in his 1984 speech at the Democratic National Convention. A Quinn spokesman insisted she didn't lift the line, and said she's the only candidate with "an actual record of real results for middle-class New Yorkers and those aspiring to enter it." For once Team Weiner had nothing to say.