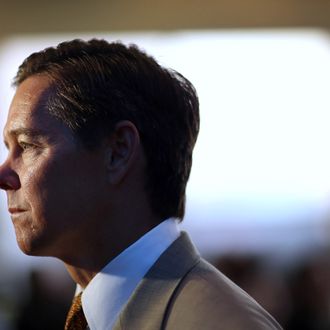 I'm not done yet.
Photo: Joe Raedle/Getty Images
Objectively, Ralph Reed has two very good reasons to be despondent.
The Defense of Marriage Act and California's Prop. 8, both gutted by the Supreme Court yesterday, were the religious right's greatest triumphs in a decades-long fight to hold back the tide of gay civil rights. Yesterday, both laws effectively disappeared off the books in less time than it took a fleet-footed intern in square-toed shoes to sprint across a marble courtyard and down a flight of stairs.
Many on the right have been rending their garments and speaking in apocalyptic terms: "The words 'We The People' are now meaningless," American Family Association firebrand Bryan Fischer said on Twitter; former Arkansas governor and current Fox News host Mike Huckabee summarized his thoughts in two words: "Jesus wept."
Faith and Freedom Coalition founder Ralph Reed, however, is taking a calmer, more activist approach. The decision "was a setback, but I don't think we should overstate it," he told Daily Intelligencer by phone yesterday. "It's not Brown v. Board [of Education]; it's not Roe v. Wade. I would caution the Democrats and the gay-rights movement against excessive celebration given the limited nature of both of these rulings." He said that he is already working on a plan to push new federal legislation to limit the effect of the court's DOMA ruling, which entitles same-sex married couples to the same federal benefits as opposite-sex married couples.
While the conservative leader acknowledged that he does not yet know what that legislation would look like, big questions remain for gay married couples even after the Supreme Court rulings, given that same-sex marriages are still only legal in twelve states and the District of Columbia.
"We have to have the attorneys study the Supreme Court decision and then work with Congress to figure out how new legislation can fit within those parameters," Reed said.
"It's certainly possible to draft a legislative response to a Supreme Court decision," he added, noting that social conservatives successfully accomplished this in the case of partial-birth abortion, after the Supreme Court struck down a Nebraska state law in 2000.
But times have changed since Congress passed DOMA in 1996 with overwhelming majorities in both chambers and a Democratic president signed it into law. Seventeen years later, it's not clear how much political will there is for a new federal gay-marriage ban, even among Republicans in Congress. And GOP leaders have made it very clear that they don't want the party bogged down by polarizing social issues.
In a statement after the Supreme Court decision was announced Wednesday, House Speaker John Boehner indicated that fighting gay marriage is now the states' problem.
"While I am obviously disappointed in the ruling, it is always critical that we protect our system of checks and balances," Boehner said. "A robust national debate over marriage will continue in the public square, and it is my hope that states will define marriage as the union between one man and one woman."
For many social conservatives, particularly those who believe the federal government should get out peoples' lives altogether, the states are a more comfortable battleground for the fight over same-sex marriage.
"The battle for marriage is essentially in the same place it was the day before [the ruling]," said Steve Deace, an Iowa conservative talk-radio host and Republican king-maker. "Courts have been ignoring DOMA for years now. The real battle remains in the states, as it always has been and probably should have been from the very beginning."
"An argument could be made in hindsight that if DOMA had never occurred those of us in favor of marriage — there's only one kind of marriage — would be better off today," he added.
As consolation, social conservatives point out that 36 states currently have gay-marriage bans in place. Republican electoral victories in state houses have ensured that, in many parts of the country, opposition to gay marriage will remain enshrined in state legal codes for the foreseeable future. And social conservatives predict the Supreme Court's rulings will precipitate a groundswell of evangelical activism aimed at fighting gay marriage at the state level.
"The court has unfortunately created chaos, but the people should be encouraged," said Tamara Scott, the Iowa chair of Concerned Women for America and the state's Republican National Committeewoman. "People need not be disheartened. We don't back down, we double down."
This renewed resolve could present problems for the GOP, and particularly for 2016 Republican presidential hopefuls. Although the majority of the country moves toward supporting gay marriage, early voting states like Iowa and South Carolina are dominated by staunch conservatives — and those voters will be looking for a candidate who will back their agenda in Washington.
"The very people that the RNC is hoping to gain are the very people who stood against the Democrats [on gay marriage] in Illinois," Scott said. "It would behoove Republicans to stand on their platform rather than run from it. When we waver, when we waffle, then our base weakens."