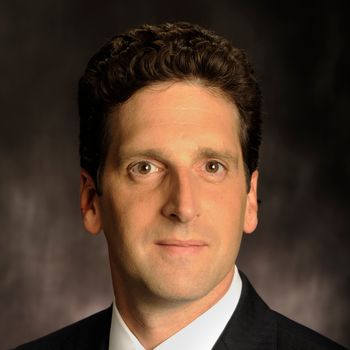 Ben Lawsky, destroyer of worlds.
Photo: NYS Dept of Financial Services
Two years ago, the New York State Department of Financial Services didn't exist. Today, it's becoming Wall Street's most feared enemy.
The tiny, state-run agency, which was created in late 2011, isn't supposed to be any more powerful than any other Wall Street regulator. It doesn't have the resources of the Securities and Exchange Commission or the prosecutorial power of the Justice Department. But Benjamin Lawsky, a tough-talking former terrorism prosecutor who became the agency's first head, has turned the New York DFS into a fraud-fighting machine, one that doles out real punishment to the firms it goes after.
Today, Lawsky has gotten a scalp from Deloitte Financial Advisory Services, which agreed to pay a $10 million fine and be banned from consulting with any New York-regulated banks for a year. The firm's ostensible sin was helping Standard Chartered, a British bank, conceal evidence of money-laundering arrangements with the Iranian government (although, after an investigation, Lawsky's office conceded that it found "no evidence" of Deloitte's involvement in the Iran dealings, thought it did find evidence that Deloitte had improperly used confidential client information during its work for Standard Chartered). Per the Cuomo administration's press release, in addition to accepting a fine and a temporary ban, Deloitte will also have to "implement a set of reforms designed to help address conflicts of interest in the consulting industry."
Fines are common among firms accused of wrongdoing (and Deloitte's fine, at $10 million, is a gentle wrist-slap), but the one-year ban is a harsher punishment than most. It means that Deloitte FAS will effectively have to sit out a year on some of its biggest financial-services contracts. A one-year ban is the kind of real, corporate-level punishment progressives have been begging the SEC and the Justice Department to bring against Wall Street firms since the financial crisis. And, for the most part, Lawsky's office has been the only one willing to do it.
Last year, when he went after Standard Chartered in the first place, Lawsky shocked Treasury and Fed officials by leapfrogging their in-progress investigations to announce one of his own. After showing evidence that the bank had processed $250 billion in illicit funds from the Iranian government while concealing Iran's involvement, Lawsky got a $340 million settlement from the bank. He also angered his fellow regulators and solidified his reputation as a renegade among the financial community.
Ideally, financial regulation is supposed to police institutions as well as individuals. But since Arthur Andersen was put out of business by criminal charges stemming from the Enron collapse (charges that were later reversed), regulators have shied away from punishing entire financial institutions. Instead, they've prosecuted individual executives and often accepted cash settlements in lieu of punishments that could cripple a bank, such as barring them from certain exchanges or banning them from certain places they do business. Even pressing criminal charges against an institution has gone out of fashion, since merely being the subject of a criminal investigation can trigger panic among certain institutional investors.
In the way he's handling the Standard Chartered/Deloitte case, Lawsky is proving that he isn't hamstrung by the same fears as many others in the regulatory community. He's not afraid to go after institutions and use nuclear threats (in Standard Chartered's case, he reportedly threatened to revoke their New York banking license) to get the penalty he wants from them. In many ways, he's behaving like the anti–Lanny Breuer.
There's a bit of populist grandstanding in Lawsky's approach, of course. And some of his crusades may be overly charged. The Arthur Andersen case is just one example of how prosecuting entire firms to avenge the wrongdoings of individuals can have devastating consequences, cause massive job losses, and end up punishing the innocent.
But for years, many of the regulators who are supposed to be enforcing the law on Wall Street have been lulled into inaction by their fear of doing the wrong thing. And, in that context, Lawsky's hard-headed crusade for justice makes him one of the most fascinating people around.
Update: An earlier version of this article incorrectly said that Deloitte's consulting arm had been the subject of a one-year ban. The ban applies to Deloitte Financial Advisory Services, the firm's financial-services unit. The earlier version also implied that Deloitte FAS had helped Standard Chartered conceal money-laundering activity. In fact, the New York DFS found no evidence of such cooperation.