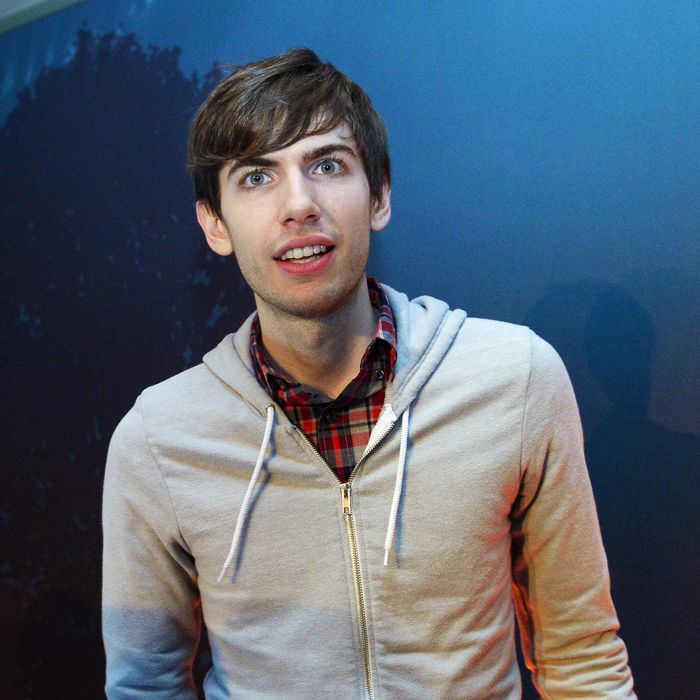 Should I make it rain?
Photo: EMMANUEL DUNAND/AFP/Getty Images
After Yahoo bought his company for $1.1 billion last month, it was only a matter of time before Tumblr founder David Karp shed of his mild-mannered cocoon and became a Diddy-befriending, Dom Perignon–drinking social butterfly. After all, he's already achieved the pinnacle of tech success at the tender age of 26. What is there to do but kick back and enjoy his millions?
So it's not entirely surprising that Karp has spent the last few days at an advertising festival in Cannes, where he's been "surrounded by women as he downed bottles of Dom Perignon Lumiere at jet set club Gotha, where Diddy spun records and performed until 4 a.m.," according to "Page Six." Karp's party doesn't look terribly exciting to us (there is, for example, only one woman pictured and no sign of Diddy), but we'll take the Post's word for it.
Karp, who once said that the thought of making Tumblr an advertiser-friendly platform "really turns our stomachs," has apparently changed his tune on that too. At the same Cannes festival, Karp reportedly told a roomful of ad types that "you guys are more talented than anyone in the Tumblr office or in Palo Alto or Sunnyvale. We're constantly in awe, constantly in service." 
He sort of has to say that, of course. One of the main reasons Yahoo bought Tumblr is that it's a pretty easy thing to monetize, by pumping streams full of ads and giving companies better tools to build their corporate Tumblr presences. And sucking up to advertisers is part of his job description now.
It's less clear where Karp's party streak is coming from. He's known as a pretty mellow dude, more prone to having brunch with his girlfriend in the West Village than making it rain at Lavo. And as tech companies go, Yahoo isn't exactly known as Partytown, USA. Maybe his wild side has been kept in check by the pressures of his new position and is inching out now that he's got more free time. Or maybe he's just blowing off steam, as any newly superrich 26-year-old might do.