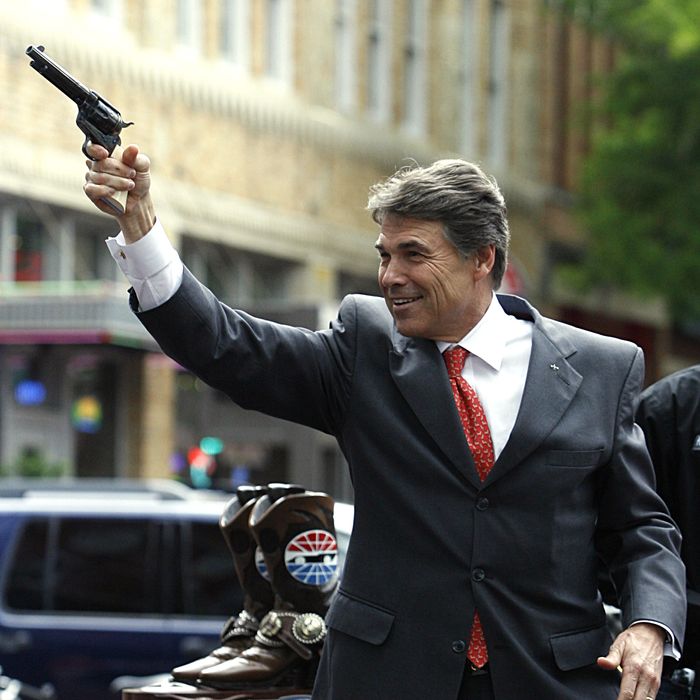 When you see elected officials brandishing firearms in public, you know you're in a great business environment.
Photo: Tom Pennington/2010 Getty Images
Rick Perry, who has made a political trademark of splashy campaigns to lure businesses from other states, now sets his sights on New York City. He's spending five days in New York and Connecticut, where "he has courted, among others, gun manufacturers facing stricter laws in the wake of the Newtown shootings." In a campaign-style ad, he portrays the town that many of us have thought of as a fairly vibrant place as a dystopian Big Government hellscape:
"Why would anybody want to live in New York City?" is a question Texans have been asking since at least this Pace salsa commercial, featuring three men who could be considered a fair representative sample of Perry's voting base:
Note that Pace salsa managed to summarize Perry's attacks — "That stuff's made in New York City!" — in a pithier way than Perry himself managed to do.
Perry's ad pitches business owners on a low-tax environment free of "overregulation." That's certainly true. If you want the freedom to buy gigantic non-diet sodas in a single cup, a notorious regulation Perry's ad prominently mocks, you don't want to live in New York. Of course, Texas's lax regulatory environment has other features, like exploding fertilizer plants located next to schools, the appeal of which will greatly vary depending on your desire to open an unsafe fertilizer plant versus your desire to not die in a fertilizer explosion.