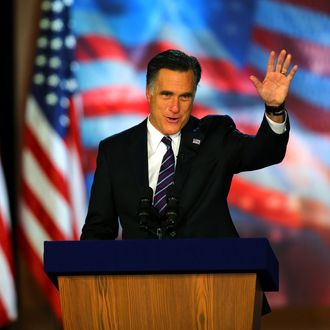 Photo: Joe Raedle/Getty Images
Mitt Romney recently emerged from wherever he is to criticize the first 100 days of President Obama's second term for "[lacking] of any clear agenda." He also assured the public that his 500-person transition team had prepared a truly game-changing agenda for the start of President Romney's time in the White House, though they obviously never got to use it. For those wondering what that plan looked like: The Romney Readiness Project (also known as R2P, like a robot) has released a 138-page report describing the changes the Republican candidate would have made upon taking office. Time's Zeke Miller read through the entire thing, which relies heavily on the business world language and structure Romney loves.
"The White House staff is similar to a holding company with a large collection of offices, each of which has its own set of responsibilities, constituents, and work flows," says a slide that would have been part of a victorious Romney's post-Election Day briefing. "It is a holding company with three main divisions." Those divisions were to be "'Care & Feeding Offices,' like speechwriting, 'Policy Offices,' like the National Security Council, and 'Packaging & Selling Offices,' like the office of the press secretary."
In addition to "restructuring White House operation's to suit Romney's corporate management style, with clear deliverables," Miller says R2P recommended "corporate-style training seminars" intended to teach appointees and nominees "management skills" before the inauguration, the extensive use of flow charts to "achieve unity," and the installation of a deputy chief of staff for Cabinet oversight to "systematically [assess] the efforts of their [Cabinet secretaries'] departments in contributing to [Romney's] priorities and objectives." And, of course, the agenda included plans to repeal Obamacare, reform the tax code, and loosen federal regulations, as the Republican candidate vowed to do during his campaign. Unfortunately for Romney & Co., voters decided to put a pin in all that indefinitely.