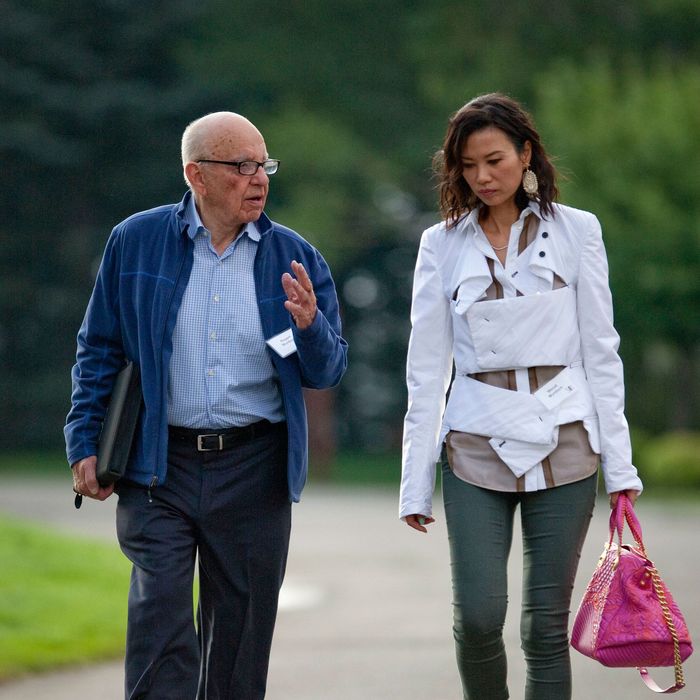 Photo: Scott Eells/Bloomberg via Getty Images
Depending on whom you talked to at News Corp. today, Rupert Murdoch's decision to file for divorce from Wendi, his wife of fourteen years, was both a shock and an inevitability. She had been a source of much turbulence in the empire, but one executive who knows the couple well was taken aback by the news: "I had thought they had come to an arrangement and were happy with it," the executive said. Indeed, for years, it seemed apparent to Rupert's lieutenants that he was living a separate life from Wendi and was okay with it. Wendi, for her part, seemed happy, too. At one point, she may have had designs on a role at News Corp. She took a title at MySpace China. But Myspace cratered, and "there was no way in" to another part of the company, one source said. So Wendi reinvented herself as an alpha mom and Hollywood personality, striking up friendships with a diverse circle that included Sergey Brin and Nicole Kidman.
Still, the signs were there for those who looked. One executive mentioned that Wendi's socialite lifestyle created tensions inside the company. A few years ago, she caused a minor flap after fashion designers sent her free dresses to wear and expected her picture to be snapped in return. Another source said that at a New Year's party in St. Barts a couple of years ago, Wendi and Rupert were seen standing frostily next to each other at midnight while the other revelers embraced. Last June, the New York Times all but certified their split with a profile about Wendi's life headlined "Declaration of Independence."

Matters of the heart in the Murdoch dynasty are always freighted with business implications, and the divorce is no exception. Speculation was immediately raised that the split could imperil the tenuous balance Rupert struck in 2006 by letting Grace and Chloe, his young children with Wendi, into the trust. But two executives familiar with the matter said that Rupert and Wendi had signed a prenuptial agreement and that the divorce should not affect the trust. "The kids will be throwing a party," an executive said, referring to Rupert's adult children, "but otherwise there's no impact." A News Corp. spokesman confirmed the divorce filing but declined to comment further.