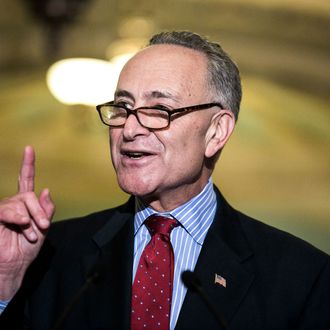 U.S. Sen. Charles Schumer (D-NY) addresses a press conference following a 54-45 vote against a House bill that would include the wealthiest Americans in an extension of the Bush-era tax cuts on July 25, 2012 in Washington, DC. The Senate instead approved by a vote of 51-48 a Democratic bill that excludes the highest-earning Americans from a yearlong extension of tax cuts.
Photo: T.J. Kirkpatrick/Getty Images
"Consumers should not have to feel as if their cell phone is a ticking time-bomb, ready to explode at any minute," said the New York senator on Sunday. He was actually talking about the dangers of malfunctioning cell phone batteries, at least 60 of which have been reported "smoking, catching fire or exploding" over the past two years, but his comment could have easily been about the general anxiety associated with simply carrying one of the devices.