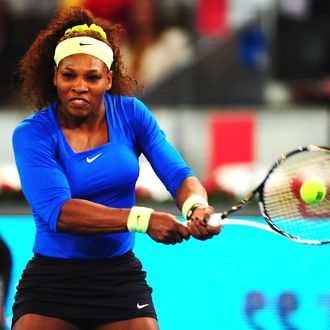 Serena Williams of USA plays a backhand during her 2nd round match against Anasasia Pavlyuchenkova of Russia during the Mutua Madrilena Madrid Open at the Caja Magica on May 8, 2012 in Madrid, Spain.
Photo: Mike Hewitt/Getty Images
For her second French Open win, Serena Williams prepared by learning to speak French. "I love Paris. I spend a lot of time here. I live here. I practice here. I think I am a Parisian," Williams said en Français during the trophy ceremony. Almost exactly eleven years after beating her sister Venus for a first French Open win, USA Today reports that the career tennis player won her second title against last year's champ Maria Sharapova, of whom Williams said, "She played a beautiful final. She's a great champion. I hope to be with her again next year." As with their match, Sharapova did her best to keep up. "Merci beaucoup," she said.