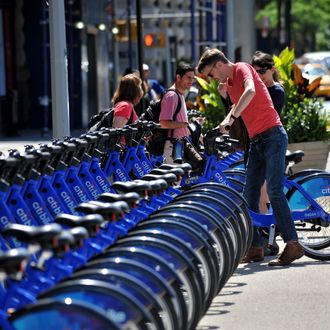 Photo: STAN HONDA/AFP/Getty Images
The New York Post, which hates Citi Bike more than just about anything, has another unflattering story about the bike-sharing program. According to the paper, wealthy New Yorkers have successfully lobbied the city to relocate Citi Bike stations installed on their blocks, while residents of lesser means are stuck with the unsightly things, presumably because Michael Bloomberg doesn't care about poor people. The Post has a list of ten locations from which racks were partially or completely removed, including Barry Diller's Chelsea IAC Building, a Soho co-op that is home to Mad Men's John Slattery, and a fancy East 55th condo tower called the Milan, which reportedly served as a set for The Wolf of Wall Street. (The Post reported on some of the rack removals back in May.)
Manhattan lawyer Steven Sladkus told the Post he helped get the Milan's station moved, as well as one in front of a Chelsea office building that appears to be owned by Elijah Equities LLC. He also worked on preventing the installation of racks near a West 57th Street condo building near Carnegie Hall. Though he had intended to sue the city in each of those cases, he said he didn't need to because "the [Department of Transportation] called him and relented at the last minute" while he was on his way to file court papers. The Post claims the city was even more accommodating when it came to the IAC building, which was relieved of its racks after the company "reached out" to the DoT. Though a company representative says the Citi Bikes were moved because they got in the way of the M14 bus, a building worker said they also interfered with "celebrity receptions." Meanwhile, Roger Sterling (or someone from his co-op board) charmed away his building's station by pointing out that it was too big for the narrow street.
Meanwhile, a group of activists and food vendors who park their carts at Liberty Street and Broadway were unable to get a station removed from their turf, despite protests and a letter of support from Councilwoman Margaret Chin. On the Lower East Side, 1,000 people signed a petition to remove a station from the front of Frank's Bike Shop, whose rental business will likely suffer from the presence of Citi Bikes, but the request was apparently unsuccessful. Hundreds of people have signed a petition and written letters asking that a station in Soho's Petrosino Square be eliminated as well, though the DoT hasn't listened so far, despite requests from the Parks Department and the local community board. Lawyer Jim Walden recently filed an injunction on their behalf.
It's not clear if the Petrosino Square crowd includes any wealthy people (though it probably does, because it's Soho) and the Post's story didn't mention what we imagine are the hundreds — maybe thousands! — of rejected Citi Bike removal requests made by New Yorkers of every income bracket. And as Dorothy Rabinowitz will absolutely tell you, most Citi Bike haters cannot make them disappear with money and influence alone — but, as always, those things don't hurt. As Sladkus put it, "I can guarantee you won't see a Citi Bike rack in front of Mayor Bloomberg's town house" when the program expands uptown.