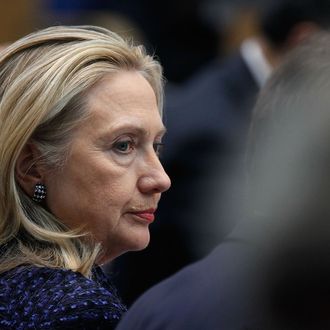 Photo: Ralph Orlowski/Getty Images
In other whistle-blowing news, a 26-year veteran of the State Department, who worked as an inspector general investigator, claims that probes into unseemly cases involving security forces paying for sex and drugs on the job "were influenced, manipulated, or simply called off" under Hillary Clinton, CBS reports. Aurelia Fedenisn is calling it a cover-up and has a memo detailing the investigations, which she says included "several allegations of criminal wrongdoing in cases, some of which never became cases." In one particularly ugly instance, the U.S. ambassador to Belgium, allegedly, "routinely ditched his protective security detail in order to solicit sexual favors from both prostitutes and minor children," but the investigation was ended, and he remains in place.
There's much more:
The memo obtained by CBS News cited eight specific examples. Among them: allegations that a State Department security official in Beirut "engaged in sexual assaults" on foreign nationals hired as embassy guards and the charge and that members of former Secretary of State Hillary Clinton's security detail "engaged prostitutes while on official trips in foreign countries" – a problem the report says was "endemic."
The memo also reveals details about an "underground drug ring" was operating near the U.S. Embassy in Baghdad and supplied State Department security contractors with drugs.
Fedenisn claims the findings were met with resistance from State Department higher-ups, one of whom said, "This is going to kill us." A final report issued in March did not include specifics about the investigations.
"I am angered and saddened by the baseless allegations that have appeared in the press," the ambassador accused of soliciting minors for sex said, according to NBC. He added, somewhat off topic, "I live on a beautiful park in Brussels that you walk through to get to many locations and at no point have I ever engaged in any improper activity."
"We take allegations of misconduct seriously and we investigate thoroughly," said State Department spokesperson Jen Psaki. "The notion that we would not vigorously pursue criminal misconduct in a case, in any case is preposterous … Ambassadors would be no exception."
A spokesperson for Hillary Clinton told CNN, "We learned of it from the media and don't know anything beyond what's been reported," and said the former secretary of State had no knowledge of the investigations.