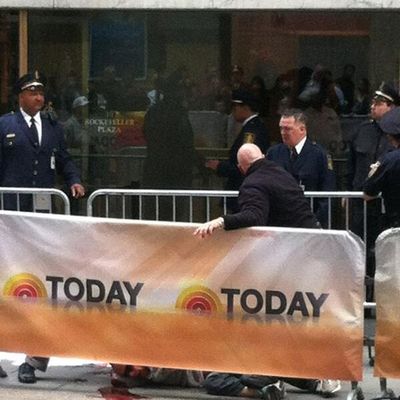 After waking up at the crack of dawn to catch a taping of the Today show, one expects sunshine from Matt Lauer & Co., plus maybe an animal doing tricks. This morning, though, things got dark for a quick moment when a man on the plaza out front pulled a knife and attempted to harm himself in front of everyone. He was promptly tackled by the NYPD and taken to the hospital, but not before eyewitnesses saw some blood. (Warning: Graphic pictures.)
Twitter user @SirAnduck had a clear view and managed to take video:
Lauer eventually gave the all-clear and the show went on:
The man's condition and identity are as of yet unknown.
Update: "This morning shortly before 8 a.m., a man attempted to harm himself on Rockefeller Plaza outside the Today show studio. He was quickly subdued by security officers on site and taken to an area hospital for treatment," NBC said in a statement. "We have strict security protocols in place to protect visitors to the Today show and those procedures were followed and effective. We are very grateful for the actions of our security team and the NYPD that no others visiting the show were harmed in the incident."