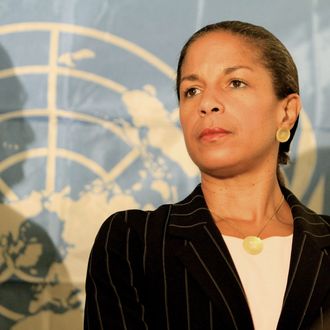 Photo: ASHRAF SHAZLY/2010 AFP
The way President Obama steadfastly defended U.N. ambassador Susan Rice from Republican attacks about Benghazi, it was clear he would not let her political career perish in a mess of partisan grandstanding. While she didn't quite make it to Secretary of State, opting not to face a Senate confirmation process guaranteed to be brutal, Obama will name Rice today as his new national security adviser, replacing Tom Donilon. Best of all: The job does not require Senate approval.
Donilon, who has been with the Obama administration from the start, is expected to step down early next month, following what the Times characterizes as "a rough patch recently," thanks largely to a tough profile in Foreign Policy questioning his management techniques. The opening conveniently gives Obama a chance to stick it to Republicans and award Rice some redemption without having to ask her rivals for permission.
In line to replace Rice at the U.N. is Samantha Power (another woman!), the Pulitzer Prize–winning author of A Problem From Hell, about how the United States responds to genocide. Other than that, she's perhaps best remembered for calling Hillary Clinton "a monster" during the 2008 presidential campaign, and then promptly resigning as a foreign-policy adviser to Obama. Power, unlike Rice, will face Senate confirmation for her new role and should probably not be surprised if the grudge against the person she's replacing carries over a bit.