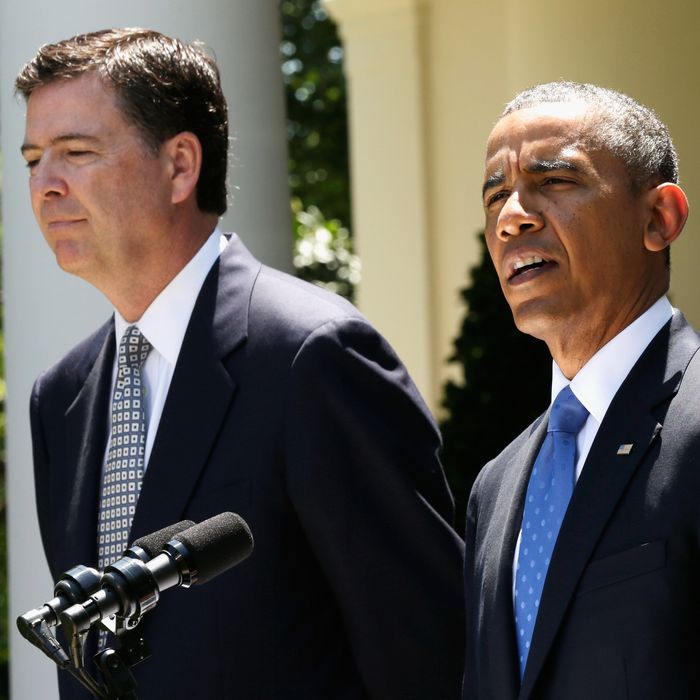 Photo: Win McNamee/Getty Images
James "Jim" Comey was nominated today by President Obama to take over the Federal Bureau of Investigation after almost twelve years under Robert Mueller.
He is six-foot-eight, and yes, he plays basketball.
That makes him the tallest member of Obama's second-term administration.
He's from a middle-class Irish-American family in Yonkers.
As a child, he was held along with his brother at gunpoint during a home invasion.
He "can sing along with Good Charlotte pop-punk hits."
As U.S. attorney for the Southern District of New York, he prosecuted Martha Stewart. "This criminal case is about lying - lying to the FBI, lying to the SEC, lying to investors," said Comey.
He's a Republican, having donated to both John McCain and Mitt Romney, and was nominated by George W. Bush to be the No. 2 to Attorney General John Ashcroft.
In what he called "probably the most difficult night of [his] professional life," Comey visited Ashcroft in his hospital bed to urge him not to give approval for the NSA's post-9/11 warrantless wiretapping program. Comey was prepared to resign unless his recommended changes were enacted, and eventually, President Bush agreed.