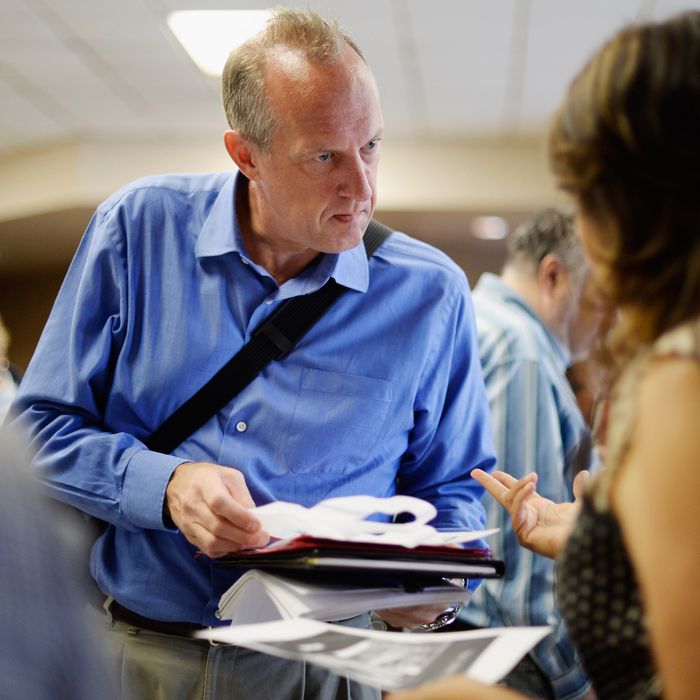 Job seeker David Sokolowsky (C) fills up job applications during Los Angeles Mission's 12th annual Skid Row Career Fair on June 6, 2013 in Los Angeles, California.
Photo: Kevork Djansezian/Getty Images
There's nothing much to see in today's jobs report. Non-farm payrolls ticked up by 175,000 (better than expected, by a little), unemployment went from 7.5 percent to 7.6 percent (meh), the participation rate went slightly up (good), and revisions to previous months were very small (good, considering). The federal government lost 14,000 jobs in May, while professional and business services and retail trade made the biggest private-sector gains.
The report is strong enough to keep the recently arrived Confidence Fairy around, but not strong enough that the Federal Reserve will likely feel comfortable ending or drawing down its stimulus measures. Top-line unemployment is still too high to justify austerity, long-term unemployment is still a national disgrace, and the Fed's intervention is still necessary to keep the recovery on track. Everyone (well, every economics writer) loves a big, dramatic jobs report, but there's something to be said for this kind of quiet, steady progress as well.