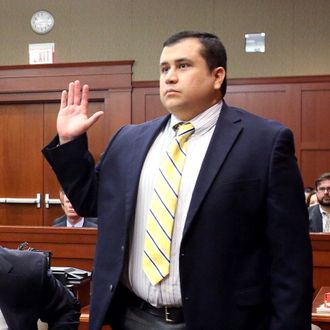 Certain sleazy corners of the Internet were thrilled at the notion, suggested in a story published by accident last Friday, that Trayvon Martin had been so awful as to have videoed his friends beating up a homeless man. But on Sunday, the lawyers for George Zimmerman said they had mischaracterized the recording found on Martin's phone. Zimmerman's lawyers wanted to use the footage to support their claim that he was the aggressor in the confrontation with Zimmerman, which ended with Zimmerman shooting him dead. But they said they were originally mistaken about the content of the video. It actually showed two homeless guys fighting over a bicycle, who Martin had stumbled upon and filmed. "We have been committed to disputing misinformation in every aspect of this case, not causing it," Zimmerman's attorney Mark O'Mara wrote in a statement apologizing for the misrepresentation.
While that's still distasteful, it obviously doesn't come close to the aggression of actually carrying out an attack. But the correction from Zimmerman's lawyers might not have been so pronounced, or even come out at all, had the Orlando Sentinel not accidentally posted an inaccurate description of the video last week, the paper reported.
On Thursday, in preparation for the anticipated release of the fight video, an Orlando Sentinel reporter drafted a story describing it, intending to publish it once the video had been made public. A web producer prematurely posted it to OrlandoSentinel.com Friday but quickly took it down after discovering the video had not been released. The story correctly characterized the video. After readers found a cached version of the story online Sunday, Zimmerman's attorneys released their statement and decided against posting the video.
The judge ruled last Tuesday that Zimmerman's lawyers couldn't mention certain details about Martin's past in their opening statements, and could only include evidence such as the video at trial if they could authenticate it. They'll have to do a better job with that than they have so far.