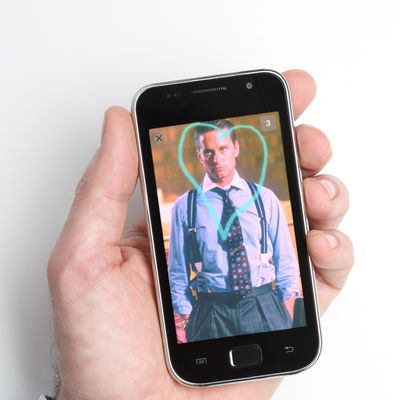 Photo: Ocean145/Corbis? Corbis. All Rights Reserved.
Once, Wall Street bankers communicated with pagers. Then Bloomberg terminal instant-messages came along, followed by BlackBerry's BBM function. Now, a growing number of Wall Street workers are becoming attached to another messaging platform: Snapchat.
Snapchat, the mobile app that lets you send self-destructing photos to your friends, is taking Wall Street by storm. After becoming popular with high school students last fall, the app has recently begun drawing in a set of young, privacy-conscious financiers. In an industry where a stray Facebook photo of a drunken escapade can get a junior banker fired on the spot, Snapchat's disappearing photos have made it a useful tool for Wall Street's party crowd.
"It's absolutely blowing up right now," a former banker and current business school student said. "People are generally sending shots of cubicles, laptops, airports and other motifs of corporate life."
"Over 75 percent of the snaps I get are from bankers," concurred one frequent Snapchat user. "It's usually the way we use texts – like, 'at a bar,' drawn over an image, to show that they're out."
It's impossible to measure the Snapchat activity of bankers or any other subset of users, given that the app produces no real public metrics. But interviews with a number of Wall Street workers suggests that Snapchat is quickly becoming the go-to social network for corporate underlings who want to keep their public profiles strictly professional, yet can't resist the appeal of a controlled social media environment that lets them run wild. With Snapchat, bankers can still communicate candidly with their friends individually or via mass-snap, but the ephemeral nature of photos (which can be set to disappear as soon as one second after being viewed) means that the chances of incriminating material ending up in the hands of a boss or a compliance officer – or in a Daily Intelligencer story, for that matter – are low.
At one Hamptons house-share this summer, a group of young roommates – all of whom work as junior analysts and associates at big banks and other financial institutions – made a pact to protect their online privacy. They agreed not to post any photos of house activity on social media sites unless every roommate signed off on the photos first.
"But nobody does that," one of the roommates said of the approval process. "Instead, everyone Snapchats weird shit. We can all see them, laugh at them, and confidentially show them to people that won't fire us."
Snapchat probably came to Wall Street via the campuses of top-tier colleges and universities, where young recruits began using the app, bringing it to their firms after graduation. Earlier this year, Yale student Sean Haufler estimated "nearly two-thirds" of the school's student body used Snapchat  –  mainly as a way to send goofy selfies and other ambiguous, context-free messages. "Since the meaning behind a snap is opaque, Snapchat alleviates senders' social inhibitions," Haufler wrote. After graduation, when students began competing for jobs in buttoned-up corporate environments, they may have turned to Snapchat while they scrubbed evidence of college debauchery from their public-facing social media profiles.
Snapchat, which now transmits roughly 150 million shared photos a day, isn't totally safe for Wall Street workers. Screenshots of snaps can still be captured and a public leaderboard can give hints about a user's activity. One Wall Street executive said that while his firm didn't have a specific Snapchat policy for employees, Snapchat use would be covered under the firm's general social media policy, which prohibits inappropriate use or disclosure of privileged information.
But compliance officers can only track what they can see. And though Snapchat may never be truly safe, it's safer than most of the other messaging apps out there – which means that its use as a haven for incriminating Wall Street photos looks poised to grow.
"It makes sense to me," said Patrick Curtis, the founder of Wall Street Oasis, a forum popular with young finance workers. "People in the industry have been burned by Facebook changing its privacy settings. You want something where you can share with your friends – where you can talk about 'models and bottles' and not care. Snapchat does that."