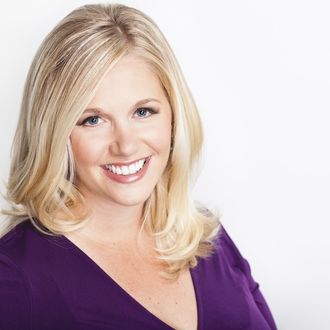 Yep, you suck.
Photo: Courtesy of Berkshire Hathaway
Tracy Britt is the kind of person who exists to make normal people feel lazy and unaccomplished. At the tender age of 28, she's already the financial assistant and right-hand woman to Berkshire Hathaway chairman Warren Buffett and is rapidly rising through the ranks at the Omaha-based conglomerate.
The Wall Street Journal reports that Britt, a native Kansan, is being groomed for upper management by Buffett — which means she "helps with financial research, accompanies Mr. Buffett to meetings and occasionally drives him around town." She is also the chairman of the board at four Berkshire-owned companies, which total more than $4 billion in annual sales.
Britt met Buffett after she and a group of her Harvard Business School classmates went to visit him with a student group called Smart Woman Securities, which she co-founded. She endeared herself to the affable billionaire perhaps because, like him, she prefers simple, old-timey stocks to newfangled tech companies:
That summer, [85 Broads founder Janet] Hanson asked her interns to pick stocks they knew as consumers and thought were good investments. While some of her peers picked highfliers like BlackBerry maker Research In Motion Ltd., among Ms. Britt's picks was Anglo-Dutch consumer company Unilever, the maker of Dove skin-care products and Lipton tea, the type of nuts-and-bolts company that Mr. Buffett has acquired at Berkshire.
But, Buffett being Buffett, it took a folksy gesture for Britt to seal the deal. According to the Journal, when she went to interview with Buffett in 2009, she brought the investor "a gift to highlight their shared Midwestern roots: a bushel of corn and a batch of tomatoes."
So, good news! If you have access to a farmers' market — along with a Harvard MBA, a perfect résumé, world-class leadership ability, a mountain of luck, and several more mountains of ambition — you, too, might one day amount to something.