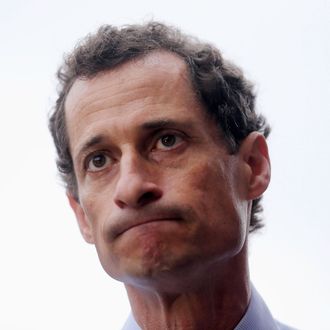 Let me take care of you.
Photo: Mario Tama/2013 Getty Images
Anthony Weiner kept beating the populist drum for his comeback mayoral campaign with a health-care-policy speech at Macaulay Honors College on the Upper West Side Thursday afternoon. Organized by the Common Good, a government reform group, the event gave Weiner a chance to tell a gaggle of health-care professionals and college students about his plan to convene a panel — Taskforce for Healthcare Reform Innnovation and Vitality for Everyone, or THRIVE — to bring some version of single-payer to the Big Apple.
But the candidate kicked things off in typical dramatic fashion, plugging his steady policy focus as the antidote to his party's failure to win a mayoral race in the city for more than two decades.
"We haven't deserved to win," he said of New York City Democrats. "Too often we've been [basing] our campaigns on who gets the most endorsements," as opposed to substantive discussions. (But this is perhaps a rather convenient argument for the guy who has been snubbed by each of the city's most powerful labor unions this year — most recently the teachers, who endorsed Bill Thompson at a raucous rally downtown Wednesday evening.)
Seeking to address a projected 40 percent rise in the city's health-care costs between now and 2017, Weiner embraced the coming implementation of Obamacare but said the city had to go a step further.
"We should make New York City the single-payer laboratory for the rest of the country," he said. He also called for city workers and retirees to start paying a significant chunk of their health-care costs — 10 percent in most cases, and 25 percent for smokers.
On the way out, Weiner was asked about the Washington Post report Thursday that described an older woman referring to his chief rival, City Council Speaker Christine Quinn, as a "dyke" in a conversation with the candidate. According to the story, Weiner, apparently noticing a reporter nearby, replied that she shouldn't talk like that — but when she apologized, reassured her, "It's okay, it's not your fault."
"Let me make it clear, when I heard the person make that remark — by the way, it was in a scrum of literally dozens of people around me on a street corner — I immediately admonished her not to say anything further," Weiner told reporters gathered after the health-care speech. "I have no memory of saying anything beyond that to the woman. But let me make it very clear that any other incidence of any type of slur against any community, I won't tolerate."