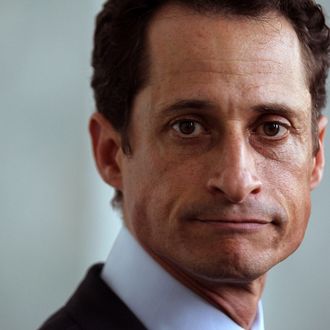 Photo: Alex Wong/2011 Getty Images
In another campaign milestone, on Wenesday night, Anthony Weiner faced his first heated exchange with a voter over his sexting scandal at a Brooklyn candidates forum. "I have a three word question, 'How dare you?'" said Chris Owens, a Brooklyn political activist, launching into a tirade that included the terms "outraged," "arrogance," and "disgusted." While previously Weiner, responded to hecklers with laughter and vigorous flag-waving, it appears he's through with turning the other cheek, and has now initiated the "shouting at voters" phase of his redemption tour.
Politicker reports that at first Weiner was calm, telling Owens, "I appreciate the question, Chris, and I know that some people will feel that way." Then Weiner became agitated, accusing Owens of going after him over an old political rivalry; Owens lost a congressional race in 2006, and Weiner had endorsed his opponent. "Well listen, Chris, you have a right to grandstand, and I have a right to answer the question," said Weiner, raising his voice. "All I can say is that I have explained – and I'll explain it to as many people who want to ask me about those things – that it was a personal mistake that I made. It was one that I regret and one that I've expressed apologies for … But now people have to decide whether or not it disqualifies me … I do think I have something to offer in this conversation."
Weiner had a similarly aggressive response for Jesse Strauss, who asked another scandal-related question. Weiner allegedly rolled his eyes when Strauss said he was supporting Bill de Blasio, and argued that everyone's ideas should be considered. "If you don't think I should even be standing here today, I certainly will respect that, I mean, you're supporting another candidate who's not gonna win," Weiner added. 
While talking with reporters after the event, Weiner tried to write his own headline about the night's spirited performance. "Slouchgate is over! It's behind me," he declared. He'll have to try harder if he doesn't want to see some variation of "Weiner stands up for himself."