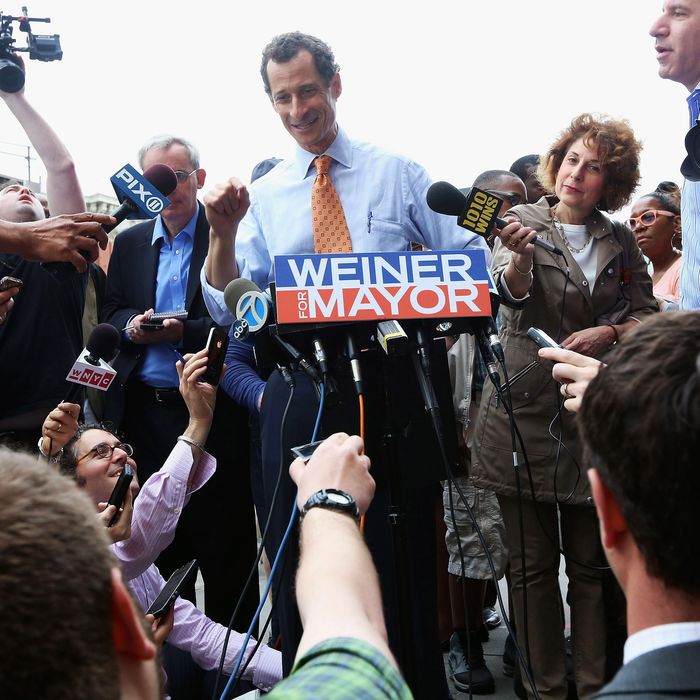 One of many instances of the media crowding around Weiner.
Photo: Mario Tama/2013 Getty Images
Anthony Weiner is happy about the mayoral race's recent poll numbers, of course: Marist has him alone in first place in the race for mayor; Quinnipiac has him in a statistical tie with Christine Quinn and Bill Thompson. But you know who should be absolutely thrilled about the results? Us — the political media, because apparently people are still reading, watching, and listening to the news. There are many reasons the disgraced former congressman has gone from 0 to 25 percent, but easily the biggest factor has been a month of saturation press coverage. Or, as the campaign pros call it, "earned media" — that is, anything the campaigns are not paying for. Earned media was always going to be a major force in this race, at least until TV ads start running in late August, because the candidates aren't well known by the public, most of whom aren't paying attention yet anyway. At this point, resigning from Congress in a sexting scandal looks like a brilliant career move.
Weiner's leap shows that the value of media attention is even greater than expected. He began with the highest name recognition of the Democratic contenders, and he's done a smart job of stoking the fascination with his comeback, whether sarcastically sparring on subway rides or standing in shirtsleeves to answer questions at tedious forums. The Times has done a pair of tough, principled stories about Weiner — detailing his lackluster legislative output and the trauma his tweets inflicted on women — but the bulk of ink devoted to him has been respectful. He's still a nimble retail politician, sprinkling in enough substantive talk to go with stunts like living on a subsistence diet, and the one shouting match Weiner got into was at a small Brooklyn political club, away from the cameras. Thompson has also enjoyed a good run of publicity, capped with his endorsement by the United Federation of Teachers, and so he's gotten a bump in the polls, too.
Chris Quinn, meanwhile, has been proving the point in a more painful way: The stories that haven't listed the attacks she's been under from the other candidates have been unflattering looks at her temper and insider deal-making. Add some self-inflicted stumbles, and she's slumped to about 20 percent in both polls. Which, for the citizenry, is a good thing: If Quinn is going to win, she needs to prove why she'd be more than a marginal improvement on Mike Bloomberg. The task for Bill de Blasio and John Liu, hovering in the low double digits, is more complicated: Do they start aggressively challenging Weiner, to generate some attention for themselves and knock him down a bit, or do they stick to their theories of the race and keep believing Weiner will fade?
"He doesn't have an overarching vision, he can't decide if he's left or right, and I don't think people know why he's here," one contender tells me. "He's had his media moment, and now he's normalizing. I don't think he's going to be a huge factor."
That's starting to sound like wishful thinking: About two weeks ago, I got a press release advertising an event, and the subject line read something like, "Weiner and those other guys to appear at … " It ratified what was already clear: that he'd become the star of the show — and New Yorkers like having a star as mayor, especially if he appears to be an independent thinker. Now the laws of media and political gravity demand a turn. What's most significant about this week's polls is that they show this race is incredibly fluid, and it will be until September 10. At least.