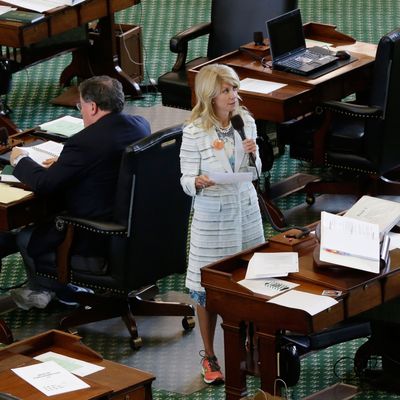 Wendy Davis.
Photo: Eric Gay/Corbis
Texas is on the verge of adopting the nation's latest restrictive anti-abortion bill, one that not only bans all abortions after twenty weeks — including for pregnancies arising from rape or incest — but would force 37 of the state's 42 abortion clinics to close because of new building code requirements. But one Democratic state senator is standing — LITERALLY! — in the way. 
Wendy Davis started her filibuster at 11:18 a.m. this morning, and will have to stand continually for thirteen hours in order to reach midnight, at which point the special legislative session will end and the bill will be shelved. Davis is spending much of her time reading stories from women who wrote in about the difficulties they would face without access to abortions. You can watch her progress live here: 
Thirteen hours happens to be almost the exact same length of time as Rand Paul's famous anti-drone filibuster in March. Like Paul, Davis can't leave the floor, even to go to the bathroom. But, unlike Paul, she isn't even allowed to so much as lean on her desk. Davis came prepared.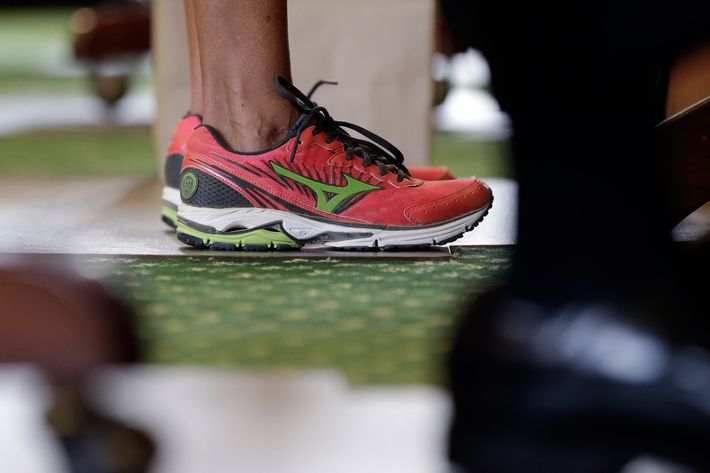 Update, 11:10 p.m.:  In response to a point of order called by Republican Senator Donna Campbell, Senate Chairman David Dewhurst ruled that Davis went off topic by discussing sonograms and suspended the filibuster, according to the Dallas Morning News's Trail Blazers blog. The crowd responded by chanting "Let her speak!"
Sen. Kirk Watson appealed the decision, and the body is now debating whether the filibuster should be allowed to continue.
Update, 11:47 p.m.: In addition to standing continually, the Texas Senate's rules require a senator to stay on topic. The Texas Tribune's Becca Aaronson explains:
There's a three strikes, you're out precedent in the Senate that allows senators two warnings about staying germane to the bill topic. On the third strike, a simple majority of the Senate can vote to end debate and the senator must yield the floor.
Davis was accused of violating the rules when she discussed Planned Parenthood's budget, when a colleague helped her adjust her back brace, and finally when she discussed a sonogram law Texas passed in 2011.
Update, 12:38 a.m.:
Update, 12:47 a.m.: Sustained applause broke out in the gallery about 15 minutes before the midnight deadline when Democratic Sen. Leticia Van de Putte asked, "Mr President, at what point must a female senator raise her hand and be recognized over the male colleagues in the room?"

Update, 1:30 a.m.: A vote was taken over the applause, but it's unclear if it took place before the midnight — or if the deadline matters.