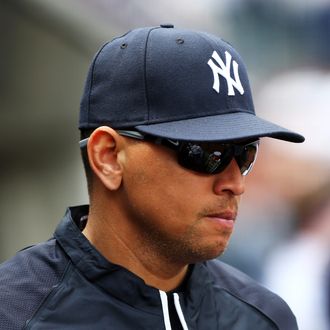 Alex Rodriguez.
Photo: Elsa/Getty Images
ESPN reported yesterday that Major League Baseball will seek to suspend some twenty players, including Alex Rodriguez, who are alleged to be connected to Biogenesis of America. Another ESPN writer explained that this could become "the biggest drug bust in the history of sports." Basically, it's the stuff finger-wagging columnists live for. (Mike Lupica, for instance, thinks A-Rod "would have to fight to get the rest of his money from the Yankees" if he is indeed suspended for PEDs. Presumably, Lupica wrote this while lighting a copy of MLB's collective bargaining agreement on fire.) But "seek to suspend" is a careful choice of words here, because if baseball moves to suspend A-Rod or Ryan Braun or anyone else because of a connection to Biogenesis, the players association will undoubtedly fight it.
The turning point in MLB's investigation reportedly came last week, when Biogenesis founder Tony Bosch agreed to cooperate. In exchange, the league will reportedly drop its lawsuit against Bosch — a long-shot suit some believe they filed to pressure Bosch into cooperating. Bosch hasn't actually met with baseball's investigators to share information or materials, so it's just speculation at this point to discuss what he may or may not say. That said, if the league is reportedly prepared to announce suspensions, it stands to reason that they're expecting to get damning information.
Baseball has aggressively pursued this investigation, and A-Rod — who was not punished for previous, admitted steroid use, as per the terms of the CBA then — is something of a white whale. But the nature of the investigation alone raises some red flags, as the players association will surely point out, if the league does indeed move to suspend.
A-Rod has not failed a drug test since mandatory suspensions were included in the CBA. This isn't breaking news, of course, but it's the starting point from which the league must make its case. It will attempt to prove Rodriguez violated its drug policy using other evidence, as opposed to open-and-shut cases in which a player tests positive for a banned substance.
And right now, everything hinges on Bosch's word. Back in April, it was reported that MLB had paid a former Biogenesis employee for documents, in the wake of a Miami New Times report that said A-Rod and other players were named in the company's records. (That alone could be an issue for the arbitrator, incidentally.) But it's the information the league gets from Bosch that will determine whether it seeks to suspend the players alleged to be involved. Ken Rosenthal today nails why this is of note:
Baseball has been "seeking" suspensions of Rodriguez, Braun and others for months. Bosch certainly is a critical piece to the sport's puzzle. But he is not a licensed physican, his anti-aging clinic is out of business and he previously told ESPN, "I don't know anything about performance-enhancing drugs."

His credibility is about on par with that of Roger Clemens' former trainer, Brian McNamee, who became the government's chief witness against the pitcher.

Which is to say, his credibility is in doubt.

The alleged users, of course, are not necessarily beacons of integrity themselves — many, in fact, may be liars of the highest order. But the question is whether baseball can prove that A-Rod, Braun, et al, indeed purchased PEDs from Biogenesis.

Slips of paper listing their names, a sworn affidavit from Bosch admitting that they were customers — heck, I'm not a lawyer, but I'd take my chances tearing baseball's case apart.
The documents themselves will be questioned. To quote Sports Illustrated's Ben Reiter, "Why would the chicken scratches of such unsavory characters be considered wholly authentic evidence to begin with, especially when they have now been financially incentivized to scratch out ever more of it?" But Bosch himself is the key to this. It's why the specifics of possible suspensions surfaced after baseball secured his cooperation.
Over at Hardball Talk, Craig Calcaterra points out how Bosch, one portrayed as sleazy by the likes of Lupica, is being repositioned the hero who can bring down cheaters with his word alone. He calls it the "rehabilitation of Anthony Bosch," and he suggests it's only just beginning. And one assumes, if MLB is going to suspend players based on what it learns from Bosch, it'll do what it can to best establish his credibility — not just to the public, but also to the arbitrator who would hear the case if players are suspended and the MLBPA appeals.
Even the agreement between Bosch and MLB could be questioned. ESPN's report said that in addition to dropping its lawsuit against Bosch, MLB will provide him with personal security. (They'll also put in a good word with any law enforcement agency that might bring charges against him, for what that's worth.) Rosenthal quotes an agent who suggests the agreement between Bosch and the league could come under scrutiny: "The amount of money paid to Bosch will become a critical issue. Federal courts have held that whether or not the testimony is truthful, the amount of money paid is a factor that must be considered in determining the credibility of the witness. Did the total amount paid to the witness have any influence on the testimony?" (There's no mention of cash flowing from MLB to Bosch as part of the deal, but we'll assume the agent speaking here is treating the personal security and other perks being offered to Bosch in a similar fashion.)
According to ESPN, the league will seek to suspend Rodriguez for 100 games, treating him as a repeat offender even though this is the first incident for which he'd be punished. (Remember: Though he admitted in 2009 that he'd used PEDs while with Texas, that wasn't punishable by suspension under the terms of the CBA at the time.) The league, in this case, would seek to suspend some players for 100 games by treating their connection to Biogenesis as one offense and their denials as a second. It reeks of creative enforcement of its rules, to achieve a harsher punishment. (The league has done this before, but with a minor-leaguer, who wasn't entitled to the appeal process a major-leaguer is entitled to.) But number of games aside, the league will likely have to make its case to an arbitrator (or more accurately, an arbitration panel), and there's no guarantee they'll win.