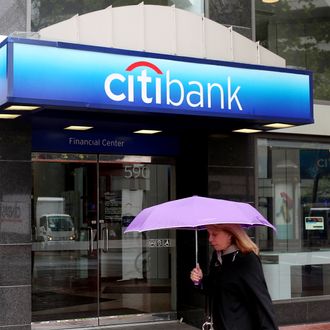 Banking on bikes.
Photo: Justin Sullivan/Getty Images
Corporate sponsorships can go very wrong, especially when controversial and/or troubled companies are involved. (See: Enron Field.) So it was risky for Citigroup, a bank that became a public villain when it received a massive taxpayer-funded bailout at the height of the financial crisis, to spend $41 million plastering its name all over New York's new Citi Bike program as part of a five-year lead sponsorship.
Citi Bike is certainly getting Citigroup more name exposure, but is it helping the bank's PR efforts?
The folks at YouGov BrandIndex, a service that tracks the public perceptions of thousands of leading companies, sent over this chart at my request. It shows Citigroup's favorability rating in the New York metropolitan area for the last five weeks. As you can see, Citibank (black line) got a bump in May, as the Citi Bike program was being rolled out, which brought it up to pace with the rest of the banking sector (blue line) at a rating just above zero, which indicates equal positive and negative feedback.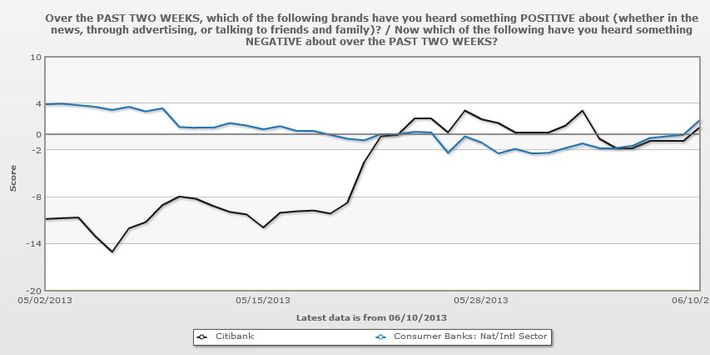 It's hard to tell whether Citi Bikes are responsible for the uptick in Citigroup's public feedback. But I wouldn't be surprised. Most people, even in New York, have shockingly little day-to-day contact with the banking sector. They keep their personal accounts at one bank and maybe have a mortgage or a loan from another, and they tend to experience the rest as a white-noise parade of empty slogans and unmemorable logos. By putting their name on a popular bike-share program, Citi has essentially erected 6,000 mini-billboards around the city. And as long as the Citi Bike program stays popular, some of that positive association might well rub off on the bank.
Barclays, which sponsors the bikes in London's similar share program, hasn't gotten as much traction from its sponsorship — in part because it had a massive PR scandal last year after the Libor-rigging mess that offset any gains it might have made from the bikes. But maybe a bigger factor is that nobody in London calls them "Barclays Bikes" — they're "Boris Bikes," after mayor Boris Johnson. And so, as of 2011, even though 80 percent of the U.K. public likes the bikes, only 40 percent know that they're sponsored by Barclays. (New Yorkers, in my experience, are mostly calling the bikes "Citi Bikes," though a few have tried to make "Mike Bikes" happen.)
I asked Citi if they were happy with the results of the Citi Bike program so far. Ed Skyler, a Citi spokesman and former New York deputy mayor for operations, wrote back: "You get very few opportunities to cut through the noise and make an impression in the fabric of a city like New York, which is our hometown."
Of course, the bank's PR gains might only last until a scandal hits or until something goes wrong with the Citi Bike program. But for now, the gambit seems to be working.