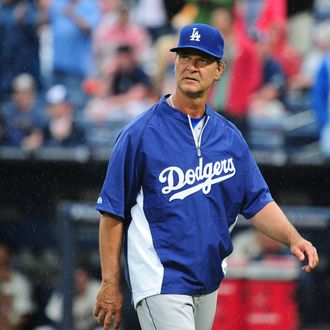 Don Mattingly.
Photo: Scott Cunningham/Getty Images
When the Yankees and Joe Torre parted ways in 2007, Don Mattingly was one of the finalists to take over as manager. The job, of course, went to Joe Girardi, leaving Mattingly "extremely disappointed," in the words of his agent. Girardi was the safer option: Like Mattingly, he'd worked as Joe Torre's bench coach, but Girardi, who'd been considered managerial material even during his playing days, had also won a Manager of the Year award with the Marlins. Mattingly, meanwhile, had no managerial experience. But even as that played out in 2007 — and especially once Mattingly was hired to manage the Dodgers in 2010 — we figured he'd get his shot in New York at some point, once he'd gained more experience. But now that Mattingly — who tonight returns to Yankee Stadium as an opposing manager for the first time — is on the hot seat in Los Angeles, that doesn't look as likely anymore.
The current mess in Los Angeles isn't all on Mattingly. Blame can be spread around for why the Dodgers are ten games under .500 and in last place, despite a payroll of more than $200 million. But Mattingly's tactical abilities as a manager have been questioned: His inability to anticipate situations, for instance, is chronicled here, and he's been criticized for everything from his  "extreme fondness for bunting" (to quote Joe Sheehan) to his bull-pen management. 
Eventually, it's likely that Mattingly's going to take the fall for this, since managers almost always do. But if the Yankees job becomes available down the line, he won't be an especially attractive candidate, even with some experience. His Dodgers teams haven't been terrible — in his first two seasons, he won 82 and 86 games, good for third- and second-place finishes, respectively — but he won't just be judged on his record. (That's probably good news for him, actually, considering what his record might look like when all is said and done this season.) But having a spotty reputation as a tactical manager won't help as he searches for new jobs — particularly on a perennial contender like the Yankees.
Joe Girardi's job is probably safe for now — as much as he drove us crazy in the playoffs last year, the Yankees' bigger issues these days have to do with roster construction, and that's on Brian Cashman and ownership. But whereas Mattingly once seemed like a logical option to succeed Girardi — whenever the Yankees are next in need of a manager — we now wonder whether he's become an even less desirable candidate. First-time managers don't always get a second chance — just ask another of Torre's protégés, Willie Randolph — and Mattingly hasn't wowed observers with his tactical skills.
Hiring someone as popular as Mattingly was always going to be a risk for the Yankees, because, again, managers are hired to be fired, and that could lead to a PR nightmare. (The same would hold true if Patrick Ewing or Mark Messier ever got coaching jobs in New York — something they both desperately want.) But that Mattingly made it as far as he did in 2007 suggests the Yankees were willing to consider taking a risk on Mattingly. Now that they've seen what he can do, it's not so certain they'd still be willing to take that risk somewhere down the line.