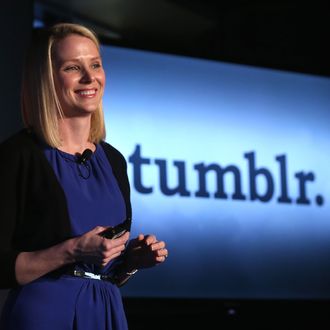 Ugh.
Photo: Mario Tama/Getty Images
On account of being a stylish and confident woman in the male-dominated tech world, Yahoo CEO Marissa Mayer is no stranger to gross dudes treating her like some kind of exotic animal. But at a Yahoo shareholder meeting today, a shareholder reached what is (hopefully?) the apex of skeezy objectification.
"I have 2,000 Yahoo shares, I'm Greek, I'm a dirty old man and you look attractive," one shareholder told her, according to numerous Twitter reports, in a preface to what I'm sure was a thoughtful and probing question about Yahoo's dividend.
Mayer reportedly brushed the remark off and kept going, which is admirable. Lesser CEOs would have smacked him with a Lean In hardcover and had him escorted out by security.
Update: Greek tech investor George Polis is apparently the culprit.