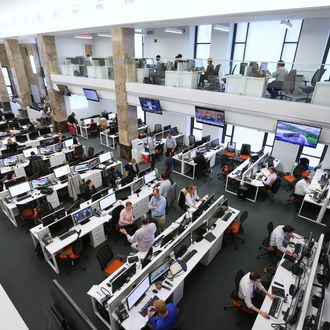 Al Jazeera America's newsroom.
Photo: Chang W. LeeCHANG W LEE/The New York Times/Redux? The New York Times
Al Jazeera America has another big hire to announce. In fact, it's the new network's biggest to date, at least in terms of job rank: ABC News vice-president Kate O'Brian, a 30-year veteran of the network, will join Al Jazeera America as its president, the network said on Monday. O'Brian, who has held her position at ABC News since 2007, will oversee the entire news-gathering operation. The new network has yet to announce a permanent CEO to run the business side of things, but for now, O'Brian will work with Ehab Al Shihabi, Al Jazeera's executive director for international operations, who's filling that role.
In addition to O'Brian, Al Jazeera announced several new hires on Monday, including Current TV's David Shuster, who is expected to anchor for an hour each evening. The network also installed CNN's David Doss, of Anderson Cooper 360, as its senior vice-president for news programming; CBS's Marcy McGinnis as senior vice-president of news gathering; and Shannon High-Bassalik, an MSNBC veteran who joined CNN in 2011, as senior vice-president for documentaries and programs. The network is set to launch on August 20, the New York Times confirmed, so expect a lot more of these announcements in the coming weeks as it fills out its staff.