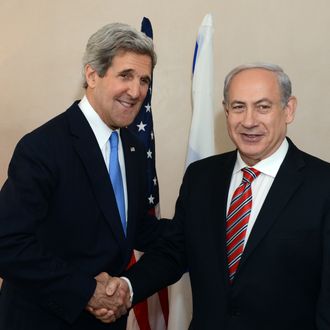 Kerry and Netanyahu at a meeting in April.
Photo: Handout/2013 U.S. Embassy Tel Aviv
Following an intense push by Secretary of State John Kerry, peace talks between Israel and Palestine will resume this week for the first time since 2010. In the last four months, Kerry made six peace-making trips to the region, and on Sunday the last hurdle was cleared when the Israeli cabinet approved the release of 104 Palestinian prisoners. The decision was opposed by many Israelis, and sparked protests outside Prime Minister Benjamin Netanyahu's office, which included family members of those killed by the prisoners. "This moment is not easy for me, is not easy for the Cabinet ministers, and is not easy especially for the bereaved families, whose feelings I understand," said Netanyahu. "But there are moments in which tough decisions must be made for the good of the nation and this is one of those moments."
The New York Times reports that a new issue has already arisen: Israel has been vague about whether it will release Arab Israelis. According to the Palestinians, the group of prisoners, who were all convicted before the 1993 Oslo Accords were in effect, includes about two dozen Palestinian citizens of Israel. Israel has said freeing those Israeli citizens would threaten its sovereignty, and Netanyahu said the cabinet will vote on whether they should be released with the other Palestinians. The prisoners are set to be freed in groups, depending on how the talks progress.
While the ultimate goal is to establish a Palestinian state and reach agreements on the nations' borders and security, those topics won't even be touched on this week. On Monday night, Kerry will host a dinner at the State Department for representatives from both sides, then they'll meet again on Tuesday and head home. A State Department spokeswoman said they'll focus on developing "a procedural work plan for how the parties can proceed with the negotiations in the coming months" — in other words, they'll just talk about when and where future talks should take place.
While it's obviously good that the two sides are talking again, the outlook for the latest round of negotiations isn't very good. Shibley Telhami, Anwar Sadat professor for peace and development at the University of Maryland, tells Reuters that while Kerry deserves praise, the talks won't work unless President Obama makes them a priority. "At some point, the central player in this saga is not going to be Netanyahu, it's not going to be Abu Mazen (Abbas), it's not going to be John Kerry, it's going to be Barack Obama," he said. "So far, it's not clear that … the president is prepared to take the kind of risk that would move this forward."