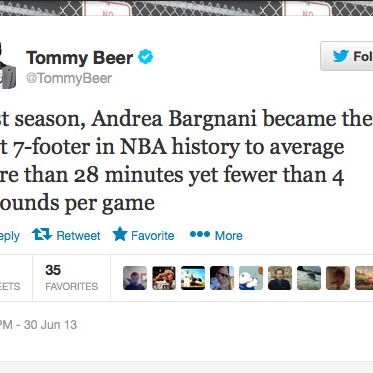 In a nearly complete trade with the Toronto Raptors announced last night, the Knicks will acquire Italian-born 27-year-old Andrea Bargnani, a seven-footer with a relatively nice outside shot and a remarkable inability or unwillingness to grab rebounds. As you can see in the tweet above, Bargnani, who was the No. 1 draft pick in 2006, actually set a Really Tall Person record for ineffective rebounding last season. Bargnani will earn $10 million this season and $11 million next season. 
In exchange for Bargnani, the Knicks are parting ways with Marcus Camby, who is 39 going on 70 and barely played last season; Steve Novak, the three-point specialist who barely played in the playoffs; a 2016 first-round pick that the Denver Nuggets had the choice of swapping for anyway; possibly one or two future round picks; and a Scrub to Be Named Later. 
Overall, it does not appear to be a super-consequential trade. Deadspin says "both teams just swapped their own garbage for another's." MSG analyst Alan Hahn says the deal "seems more like a bookkeeping move than anything else."
Novak, however, was something of a fan favorite, and on Twitter last night, he remained a complete class act:
Novak, and his obsession with doing the "discount double-check" after hitting a big three-pointer, will be missed.