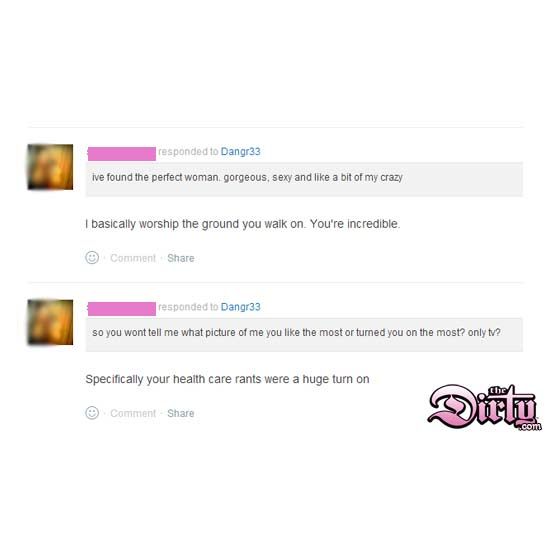 It was bound to happen sooner or later: An anonymous woman has told the Arizona-based gossip and nudies site The Dirty that she carried on an explicit online affair with mayoral candidate Anthony Weiner — after he was busted and forced to resign from Congress for the exact same thing. "She was lured by Anthony Weiner post scandal via Facebook," wrote the site's editor Nik Ritchie yesterday. "They had a relationship for 6 months and she believed they were in love … The relationship consisted of Anthony Weiner and Anonymous sending sexually explicit pictures of each other and having sexual conversations via phone. The best part was Anthony used an alias this time thinking this would protect him. Anthony Weiner used the name 'Carlos Danger' when he would email pictures of his penis via Yahoo."
"I said that other texts and photos were likely to come out, and today they have," said Weiner in a statement, after hours of silence about the allegations. "As I have said in the past, these things that I did were wrong and hurtful to my wife and caused us to go through challenges in our marriage that extended past my resignation from Congress."
Weiner continued, "While some things that have been posted today are true and some are not, there is no question that what I did was wrong. This behavior is behind me. I've apologized to Huma and am grateful that she has worked through these issues with me and for her forgiveness. I want to again say that I am very sorry to anyone who was on the receiving end of these messages and the disruption that this has caused. As my wife and I have said, we are focused on moving forward."
By stating that "some things that have been posted today are true and some are not" and that the "behavior" is "behind" him, Weiner did not exactly confirm or deny that the above conversations took place in August 2012, after he got caught but before his comeback. The "challenges" in Weiner's marriage, he said, "extended past my resignation from Congress," which further indicates that the alleged dates could be legitimate. Ultimately, the vague timeline leaves more questions and assures this is not over yet.
"Even post scandal, I thought he was misunderstood," said the woman, who claims she was 22 years old at the time. "Until I got to know him. I thought I loved him. Pretty pathetic."
In follow-up posts, The Dirty printed alleged chats both filthy — as we've seen before — and mundane, including the man alleged to be Weiner offering the woman a chance to be featured on a panel hosted by Politico. "but do me a solid," he wrote. "can you hard delete all our chats here."
"He promised her many things including a condo in Chicago (1235 S. Prairie Ave) where they were planning to meet up to have sex," claims The Dirty. "Anthony Weiner has a shoe fetish, particularly heels."
In a subsequent message, Weiner mentioned his two cats. In his first sexting scandal, he was also pictured with two cats. As The Atlantic Wire reported, "Someone who worked closely with Weiner in the past contacted us and attested that Weiner does indeed have a cat with one eye. So there's that."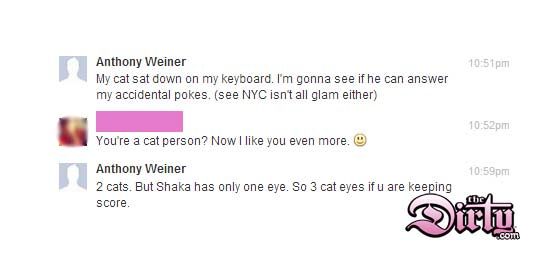 The nastiest of the messages supposedly took place on the question-and-answer site Formspring, under the username Dangr33. A page using the same name still exists, but is private. There's also an alleged dick pic (NSFW, obviously), from a familiar angle, although there's no confirming who the blurred-out member belongs to.
Because of Weiner's far-from-definitive statement, there is no independent confirmation — or denial — that the chats occurred after the first scandal, as there are no dates in the screenshots, only times. According to the woman's timeline, the relationship "began to fizzle out" in November 2012. "We only spoke once in December 2012, and then I didn't hear from Anthony Weiner again until April 11, 2013 when a NYT article about him was released," she said. "He reactivated his Facebook and asked me what I thought of it."
One part of Weiner's statement is clear and true: He did warn that something like this could happen when he announced his attentions to pursue the mayor's office. "If reporters want to go try to find more, I can't say that they're not going to be able to find another picture, or find another person who may want to come out on their own," he said in April. "Basically, New Yorkers know the story. I did it. I did it with multiple people."
This post has been updated throughout.