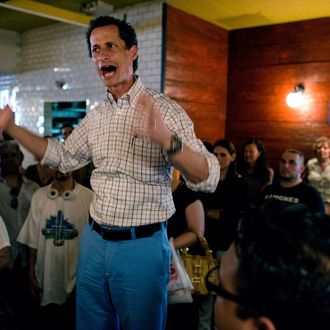 Photo: Craig Ruttle/Corbis
After two years of low-key couch time, mayoral hopeful Anthony Weiner's active campaigning schedule has caused him to drop ten pounds. The six-foot-one Weiner is down to a fighting weight of 147, his spokeswoman confirmed to the Daily News today. "I'm on a diet that is very heavy on coffee and very light on sitdown meals," explained the lanky candidate, who was already known to joke (in front of old Jewish people), "I don't want to interrupt your lunch. As you can see, I can't afford to miss too many meals!" Cue the girth jokes.
The campaign crash diet stands in contrast to what the Times warned earlier was, for political candidates, months of "eat-and-greets … power breakfasts followed by power lunches (sometimes three in a day), and ethnic festivals and cultural nights where sampling the local delicacy is tantamount to a mandatory show of respect."
Weiner, though, known to rock some skinny pants, is on-trend: The Brooklyn boy is now living in an apartment on Park Avenue South in Manhattan, which a new study found was home to the second-thinnest men in country, trailing only San Francisco. If this race doesn't work out, maybe he can give it a go there.