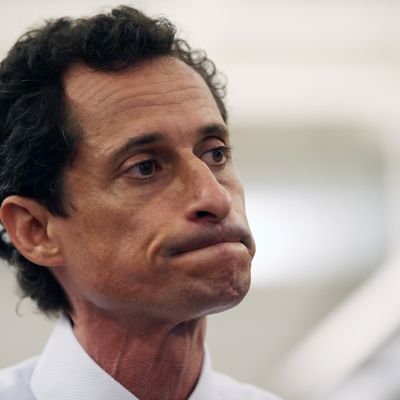 Was that wrong? Should I not have done that?
Photo: John Moore/Getty Images
A new poll confirms what you probably already assumed: Revealing yourself as an unrepentant cybersex maniac who habitually sends cock-shots to young women and publicly humiliates his wife does not make for good campaign strategy. According to a Marist survey — the first one conducted since Anthony Weiner's latest cock-shot scandal — Christine Quinn now holds a nine-point lead in the mayoral race, while Weiner has fallen back to statistical tie for second place with Bill Thompson and a suddenly relevant Bill de Blasio. Moreover, 55 percent of New York Democrats now have an unfavorable opinion of Weiner, up from 36 percent a month ago.
The silver lining for Weiner: This is probably his low point. Memories are short, the news cycle moves quickly, and we still have more than six weeks to go until the Democratic primary, so Weiner does have time to rebound. Unless, of course, yet another girl comes forward — which is certainly possible, as Weiner can't even remember how many ladies he's sex-chatted.