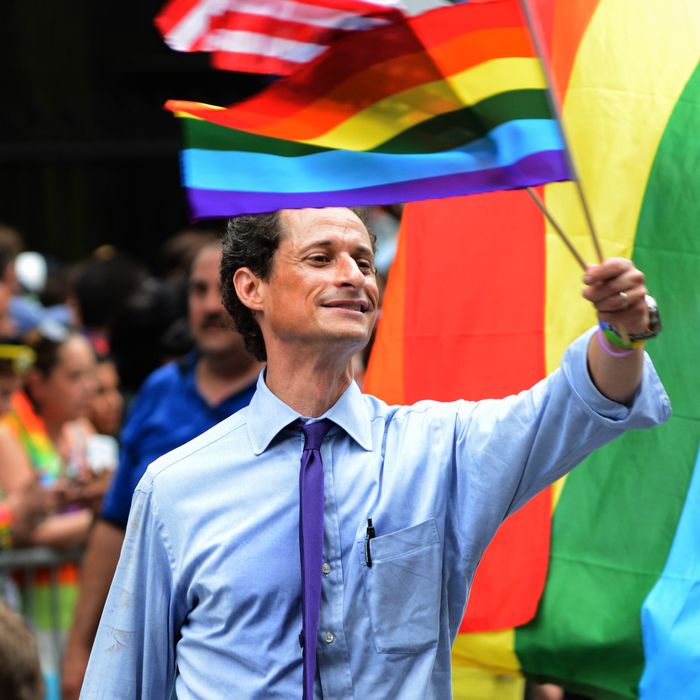 Photo: Mike Pont/FilmMagic
The man knows how to get press. Fresh off of his media-assisted leap to the top of the polls, mayoral candidate Anthony Weiner is peacocking. The Daily News noticed his "bold-colored braggadocio" over the weekend, specifically in the form of bright red and blue pants. "Is it a blatant attempt to get the gay vote?" menswear designer Jeffrey Banks wondered. "Is the casual look an attempt to make him seem more accessible?" But all that really matters to Team Weiner is that people are talking about him.
In a New York Times editorial today titled "Anthony Weiner Doesn't Care What Everyone Thinks," Lawrence Downes wrote that Weiner's slacks at a recent event "brightly violate the boundary between orange and red." Weiner explained, "I don't usually dress like this," but said he had just come from a same-sex marriage celebration in the Village. "Is he really saying he hasn't had time to change out of his gay pants?" Downes asked.
The Post noted the fashion choice as well, with a nod toward sexuality:
Weiner then went on to work the Christopher Street bar scene, wearing bright-red pants, a white button-down shirt and a rainbow tie. Asked who picked out his outfit, he offered some insight:

"Here is the gay-straight divide. Straights say I look silly, and gays say I look amazing.

"How do I look?" Weiner asked a gay campaign staffer.

Without missing a beat, the staffer responded, "Well, your pants could be tighter."
And the Daily Beast overanalyzed the "bold, look-at-me selections that seem to scream, "I'm confident, I'm here to stay. And there's no turning back now.'" (They also match his campaign posters.)
Weiner's spokesperson played along: "Anthony wants to lead the fashion capital of the world, so it's no surprise that he would make fashion forward trouser choices," she said. As much as Weiner might act like tabloid coverage is his enemy, he certainly knows how to work it.